Katrina Kaif shrinking away; losing weight through breakup?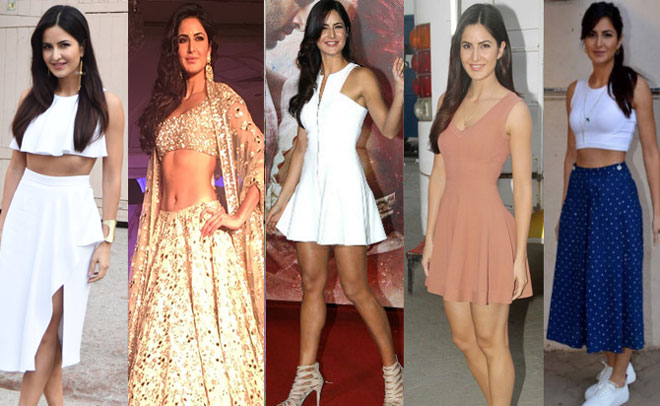 Bollywood is still reeling under the news of Katrina Kaif and Ranbir Kapoor's alleged separation.
But the actress has never been so radiant and in-control of things around her.
The actress has 'Great Expectations' from her next 'Fitoor' and has dived in to frenzy promotional activities.
Perhaps working too hard to heal her broken heart.
With back-to-back promotions, Katrina is giving some major fashion goals to follow and we cannot help but notice her shrinking waistline.
Kat's dwindling frame would have been a thing of worry had it not been for her cheerful exterior look.
She is putting up quite an evolved and daring front, displaying those washboard abs in sheer dresses and crop tops.
Katrina shows Ranbir Kapoor what he's missing as she flashes her toned body.
The usually demure Katrina is coming out to be bold and surprisingly refreshing at every event she attends.
The actor who kept her fashion picks agonisingly predictable over the years is now making uninhibited choices.
Be it her fiery crimson hair, the knife-pleated colourful skirt, thigh-slit skirt or the magenta flower print gown, she has undergone a style revamp.
There's buzz that she'll also be piercing her belly button.
Her unusual friendly chat and extra wide smile is taking journalists by surprise.
We wonder what's going on with Katrina, she is certainly not her old self.
They say breakups make you sad? Maybe not always. And if at all she is shredding any tears, her carefree laughter is doing a great job of hiding it.
She's definitely channelising her energy at the gym. Those abs and that body, which could make any woman go green, is surely adding to her growing confidence.
Reinventing one's style after a break-up is a coping mechanism that helps a person convert painful emotions into happy ones.
People do things to feel good and save them from the feeling of loss and pain.
If that is what Katrina is up to - she is definitely doing a great job out of it.
While you can see a host of changes in her, the commendable part is that Katrina never loses her poise and elegance.
Way to go Kat!

All pics: Sanskriti Media and Entertainment
Follow Emirates 24|7 on Google News.