Katrina, Ranbir, Deepika potboiler; Neetu Kapoor adds some extra spice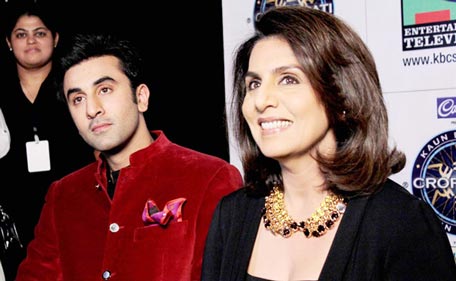 This is not the first time that fans of Bollywood couple Ranbir Kapoor and Katrina Kaif have been stumped - courtesy Ranbir's mother Neetu Kapoor. And this time, it brings cheers to Deepika Padukone fans.
The gaffe on Neetu Kapoor's part was never intentional as it was made out to be.
On the joyous ocassion of Holi (festival of colour) Neetu Kapoor took to Instagram to wish her followers, "A Happy Joyous Colourful Holi to all my Insta Buddies !!!!"
And, along with the message she posted a still from the song 'Balam Pichkari', from the movie 'Yea Jawaani Hai Deewani' starring her son Ranbir Kapoor and ex-girlfriend Deepika Padukone.
The photo conjured up quite a storm in the social media teacup, what with fans of the actors dissecting and re-dissecting the photo, and trying to decipher a 'hidden message' in the same.
These are some of the comments that came her way:
"Bring them back together!! @neetu54 i beg of uu!!"
"By putting photos of Ranbir with Deepika u are igniting the hope of many RK-DP shippers. Are u aware of if? If that happens that will be the fairy tale.."
"@neetu54 Thank U for posting this.. Bhagwan aap aur RK DP ko hamesha khush rakhe.. <3"
And Indian media soon caught up with the social media frenzy and sought for clarification.
Though Neetu was unavailable, father Rishi Kapoor gave his asked the reporter from Mumbai Mirror "...don't overstretch your imagination."

(Reuters)
He explained that Neetu has only posted a picture of her son in a Holi song and nothing beyond that.
It's not exactly news any longer that Ranbir Kapoor and Katrina Kaif are seeing, and well, living with each other in their penthouse.
And that is what has caused all the commotion on social media, seeing that Katrina's could-be mother-in-law shared a photo of her son and his ex-girlfriend on Holi.
This is not the first time that Kaif has been at the receiving end of a social media snub, thanks to Neetu Kapoor.

Instagram
Earlier, Neetu had cropped out Katrina from a family photograph clicked at Ranbir's cousin's birthday. The un-cropped version of the same photo had been shared by Riddhima Sahni, Ranbir's sister. The incident fuelled rumours of some sort of trouble in between Katrina Kaif and Neetu Kapoor. And this time, rumour-mongers seem to have struck gold, as far as the Neetu-Katrina equation is concerned.
Follow Emirates 24|7 on Google News.