Kevin Spacey to open academy in Dubai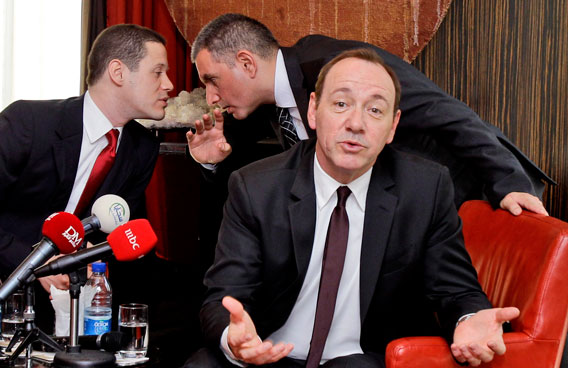 Academy Award winner Kevin Spacey has designs on the region, with plans to launch The Middle East Theatre Academy, a programme designed to "bring theatre to the Middle East", and introduce the youth here to the art of theatre and stage performance.
The actor, who is in the UAE to host the Laureas World Sports Awards in Abu Dhabi, jetted into its neighbouring city of Dubai yesterday to launch the initiative as part of the Kevin Spacey Foundation, working alongside Badr Jafar, Executive Director of Crescent Petroleum and CEO of Crescent Investments.
Thisnon-profit Academy aims to be a first-of-its-kind in the Middle East, which will make use of existing theatre and staging facilities throughout the region to offer a range of creative opportunities for emerging artists, including workshops, masterclasses and special events led by industry professionals in all aspects of theatre and stagecraft: performance, directing, writing, producing, stage management, lighting, set design, costumes, make-up and so on.
The Academy will focus particularly on motivating underprivileged children and teenagers who would benefit from rebuilding lost confidence or developing their self-assurance to reach their full potential in all facets of their lives.

The Hollywood factor
Kevin Spacey is much admired for his success as a stage and screen actor and producer, and as Artistic Director of one of London's oldest theatres, the Old Vic Theatre.
The Kevin Spacey Foundation was launched in November 2010 to help advance and promote the creative arts for public benefit through the training and education of writers, actors, producers and directors.
Spacey views his foundation as a means of "giving back" to the community, supporting those with the passion and potential to succeed in the competitive worlds of film and theatre.
He said yesterday: "My mentor Jack Lemmon had a phrase that he used all the time, which I've now adopted as my own. He believed that if you've been successful in your chosen path, then 'sending the elevator back down' is your obligation.
"That's why I've set up The Kevin Spacey Foundation and I am thrilled to be able to be developing this Academy for the Middle East Region for this purpose."
Jafar added: "Using existing venues and facilities wherever possible, The Middle East Theatre Academy with the Kevin Spacey Foundation and supported predominantly by the private-sector in our region will strive to bridge any geographical barriers and offer our youth and budding artists an otherwise elusive opportunity to explore all aspects of theatre."
Follow Emirates 24|7 on Google News.