Khloe Kardashian spends Valentine's Day with Lamar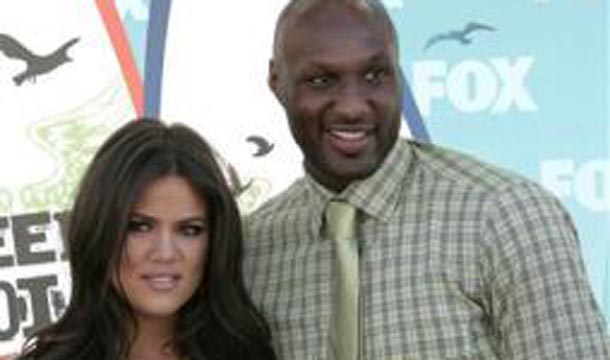 Khloe Kardashian and Lamar Odom spent Valentine's Day (14.02.16) together.
The former couple - who split in December 2013 but are not yet divorced - enjoyed a day of "friendship" on the traditionally-romantic occasion yesterday as the basketball player wanted to show his gratitude to his estranged wife for the way she has supported and cared for him since his near-fatal collapse last October.
A source told E! News: "It was more a day of friendship than romantic love.
"Lamar appreciates Khloe so much for everything she has done for him these past few months.
"[He bought Khloe] beautiful flowers for being the woman and friend he will always love."
Khloe, 31, had begun the day by vowing not to waste her love on the wrong people.
She posted on Instagram: "Spend your time on those who love you unconditionally.
"Don't waste it on those who only love you when the conditions are right for them."
Alongside the inspirational quote, the 'Keeping Up With the Kardashians' star - who recently split from boyfriend James Harden - urged her fans to love themselves and put their own happiness first by not settling for love "conditions".
She wrote: "We have to learn to accept the love we AREN'T given. Believe them when they show you their true colors. Stop trying to repaint that person into a shade they are not.
"To realize, that although we put someone on a pedestal, that does not mean that their judgment defines who we are.
"We must learn to love ourselves first unconditionally. So we have the strength to not let others love us on their conditions.
"In conditional love: love is 'earned' on the basis of conscious or unconscious conditions. Conditional love is purely based off of how one can benefit. You, in a sense are paying for another's love. Constantly auditioning for a spot in their lives.
"Whereas in unconditional love, love is given freely no matter what. With acceptance and purity. Loving is primary.
"Conditional love requires some kind of finite exchange, whereas unconditional love is seen as infinite and measureless.
"I think that, at any given point, we are faced with the choice of whether to move on with what the universe gives and takes or to hold on and bury ourselves in our own misery. The choice is yours.
"Choose your happy over anything else. Love is different for us all. Be strong enough to Accept only unconditional love.(sic)"
Follow Emirates 24|7 on Google News.