Kim Kardashian: bump out; no to $3m for pic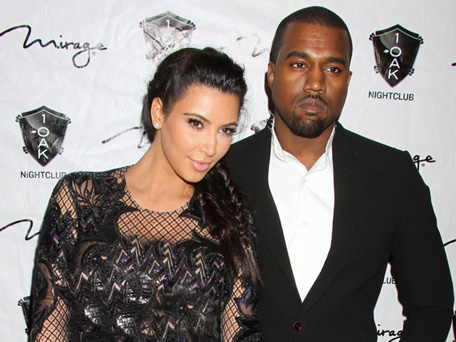 Kim Kardashian and Kanye West have reportedly turned down a $3million magazine offer for the first pictures of their baby
The couple - who recently revealed they are expecting their first child in June - reportedly rejected the huge offer from a magazine eager to secure exclusive rights to the first shots of their newborn.
(Reuters)
A source close to the 32-year-old 'Keeping Up With The Kardashians' star told gossip website TMZ.com that she and the 'Otis' rapper have been flooded with lucrative offers for their child's first pictures and were offered $3 million from one publication outside the US.
But the insider insisted the couple have no plans to sell the private pictures to anyone at the moment but might consider offers closer to the birth because they are aware that the public interest in their baby is likely to increase.
The $3 million offer is slightly less than the amount paid to Brad Pitt and Angelina Jolie for the first pictures of their first biological daughter Shiloh in 2006. They were paid $4.1 million and $14 million for their twins Knox and Vivienne in 2008.
(Reuters)
Jennifer Lopez and her then husband Marc Anthony were paid $6 million for photos of their twins Max and Emme in 2008, while Matthew McConaughey and his wife Camila Alves were paid $3 million for the first pictures of their first son Levi in 2008.
Kim has already been offered $250,000 to host a pregnancy website after being approached by David Dginguerian, an Armenian filmmaker, about working with a planned membership-only website called MyPregnancy.com.
(Twitter)
It is unclear if Kim will sign up as it was recently revealed that she and Kanye, 35, are reportedly planning to share the pregnancy and their adjustment to parenthood with their fans through a show on E!
E! Entertainment network president Suzanne Kolb previously said: "Kim and Kanye are an incredibly dynamic couple, and their baby news is just so exciting. Like so many Kardashian fans, we love it when this close-knit family gets even bigger. We look forward to sharing the joy as they prepare for more diapers, more bottles and without a doubt, more fabulous baby wear."
(Twitter)

Pregnant Kim Kardashian fights stretch marks
Pregnant Kim Kardashian has revealed she is trying to prevent stretch marks during her pregnancy by using a cheap pharmacy body oil called Bio-Oil
(Twitter)
The 32-year-old reality TV star - whose boyfriend Kanye West announced she is expecting their first child late last month - has admitted she is already lathering her body in Bio-Oil in a bid to prevent stretch marks during her first pregnancy.
According to the MailOnline, the 'Keeping Up With The Kardashians' beauty shared her top tip with fans and also revealed she uses the cheap beauty product to help keep her looking young, saying: "It prevents wrinkles around my eyes and stretch marks over my body."
Known for her slim curves, Kim also recently revealed she has changed her fitness routine to help her stay in shape.
The 14-weeks pregnant star told fans of her official blog on Thursday (03.01.13): "Tracy Anderson is keeping me in shape! She is helping me make the adjustments necessary to keep me feeling happy, healthy and most importantly create a workout plan that is safe for the baby.
"It's really important for me to have a fitness routine that works for my body and my schedule and I'm really happy with the workout plan Tracy is working with me on."
Meanwhile, the brunette beauty has sparked rumours she and Kanye want to make Beyonce and Jay-Z, whose own daughter Blue Ivy turned one yesterday, their baby's godparents after her boyfriend of nine months tweeted a picture of the four of them together with the caption 'Fam'.
Follow Emirates 24|7 on Google News.