Kim Kardashian pregnant with Kanye West's child craves for sushi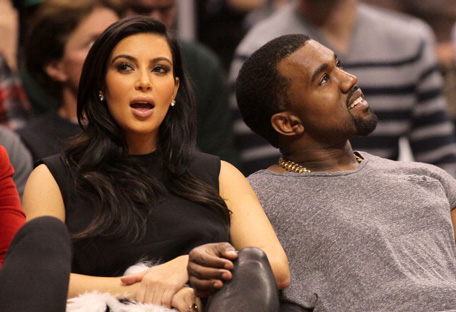 Pregnant reality star and business woman Kim Kardashian feels 'blessed' to be expecting her first child with boyfriend Kanye West and is looking forward to starting a family.
Luckily for Kim, she has no morning sickness. The reality star has opened up about how she is feeling now she and Kanye West are expecting.
The 32-year-old reality TV star - whose boyfriend of eight months Kanye West announced they are expecting their first child on stage at his concert in Atlantic City on Sunday (30.12.12) - has admitted she is over the moon and can't wait to become a mother.
Writing on her official blog today (31.12.12), the 'Keeping Up With The Kardashians' star said: "It's true!! Kanye and I are expecting a baby.
"We feel so blessed and lucky and wish that in addition to both of our families, his mom and my dad could be here to celebrate this special time with us. Looking forward to great new beginnings in 2013 and to starting a family. Happy New Year!!! Xo"

And even though Kim is roughly three months into preganancy she managed to fulfill her business obligations and hosted a party in Las Vegas on New Year's Eve, reportedly earning herself $300,000
Speaking to E! News the 32-year-old revealed that pregnancy is 'not fun' and that she is suffering from 'growing pains'.

She also said that though she and Kanye, 35, do not know the sex of the baby yet, they are planning on finding out as soon as they can, according to TMZ.
Kim said: 'When people say pregnancy is fun and they love it, I would disagree. I think from this stage on it does become easier and funner but it's just adjusting.'

She added: 'Even my sister has made it look so easy and it's not as easy as people think. It's a little painful, there's a lot of growing pains.

'But I've heard it's all worth it so I'm looking forward to that.'

And as for any weird cravings, 'The Keeping Up With the Kardashian' star said she is longing for seafood - though she knows it's not encouraged for pregnant women.
She said: 'I'm craving sushi, but I know I can't really have it, so I'm eating a lot of carrots and celery with lots of ranch.'
Kim and Kanye will make their first public appearance together in Las Vegas tonight since announcing their happy news, where she is hosting a New Year's Eve bash at 1 Oak nightclub in the Mirage hotel.
A source close to the brunette beauty previously revealed that she has inked a six-figure deal to appear at the event.
The insider also insisted that Kim would have no problem avoiding alcohol at the bash because she has never been a big drinker anyway.
Tickets to the star-studded event reportedly cost $125 for standing room, while tables cost $3,000.
Kim is said to be exactly three months pregnant and has only just told her family.
A source told HollywoodLife.com: "The family found out the good news on Christmas. Kim is due in late June, early July. She's three months along at this point."
Kim is still legally married to her estranged ex-husband basketball star Kris Humphries despite filing for divorce more than one year ago after just 72 days of marriage.
Their divorce is expected to be finalised in early 2013.
Also Read:
Nach Baliye 5: Shoaib Malik sweeps Sania Mirza off her feet
Team Salman Khan: Katrina, Sonakshi, Malaika, Arbaaz...
Shah Rukh Khan spends New Year playing football on Dubai beach
Follow Emirates 24|7 on Google News.