Kristen Stewart's dream: To work and have baby like Hrithik Roshan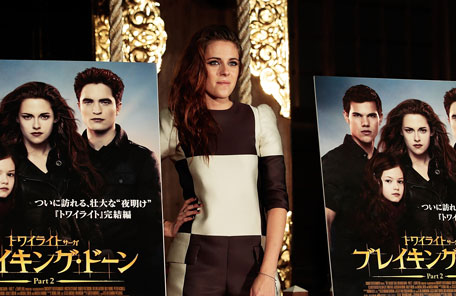 Twilight fame Hollywood actress Kristen Stewart has expressed a weird wish of working and having a baby like Bollywood actor Hrithik Roshan.
We must say the greek god of Hindi film industry has got quite an impression over this Hollywood girl.
"If someone offers me a good script, I would love to work in a Bollywood film. I would love to work with Hrithik Roshan. He is such a wonderful actor and so good-looking," Kristen Stewart said in a statement.
Well, we understand her wish to work with fellow actor who also has the looks to match her's.
But after a good look at him her meternal instinct must have kicked in and she now wants a baby like Hrithik.
"In fact, if I have a boy, I would want him to look like Hrithik Roshan, but with Rob's (her real-life boyfriend and on-screen husband) eyes," she said.
Kristen along with her boyfriend Robert Pattinson shot to fame after playing Bella Swan and Edward Cullen in the Twilight series.
"Bella as a character has received a lot of criticism for being a throwback heroine, because she sacrifices so much for her man. I strongly disagree. In fact, you have someone who is stronger than the guy she is with, emotionally," she said.
On playing an 18-year-old mother to a six-year-old child in The Twilight Saga, she said, "That is something I'm going to miss the most. I did not realise I had such a strong maternal instinct until I played mother to Mackenzie (Renesme). It was surreal."
Ask her when she realised that Twilight series has changed her life, Kristen says, "Twilight changed my daily life instantly. I was no one (before the film released). I was a kid. I had just turned 18. The day the movie came out in the tabloids, the next day there were images of me."
Directed by Bill Condon Breaking Dawn 2 stars Kristen Stewart, Robert Pattinson and Taylor Lautner in the lead roles.
MUST READ:
From fit to fat: Bollywood couples and their weighty issues
Shah Rukh slams patch up news with Salman Khan
Kareena Kapoor: An unlikely heroine for 'Satyagraha'
BIGG BOSS: Stripper exits, world's shortest girl enters Salman's show
Follow Emirates 24|7 on Google News.