Lady Gaga dazzles at Grammys with glam Bowie tribute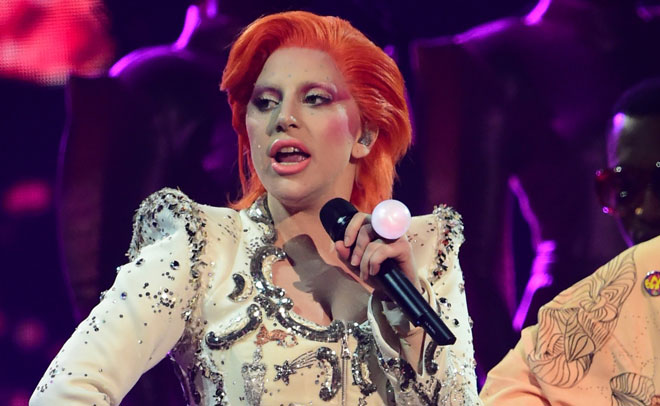 Pop diva Lady Gaga stole the show at the Grammy Awards on Monday with an extravagant, multimedia David Bowie tribute that befitted the flamboyant rock legend, who died last month.
She blazed through the singer's era-defining hits including 'Space Oddity,' 'Changes,' and 'Ziggy Stardust,' accompanied on guitar by Nile Rodgers, who co-produced Bowie's biggest selling album, 'Let's Dance.'
AFP
Gaga set the chaotic tone from the start, appearing in a bright orange wig with the trademark 'Aladdin Sane' flash on her face, and affected an odd English accent as a huge spider was projected onto her face.
The singer, known for her brash outfits and sexual candor, is among the contemporary artists most obviously inspired by Bowie, the pioneer of glam rock.
She performed 'Suffragette City,' 'Rebel Rebel,' 'Fashion,' 'Fame,' 'Under Pressure,' and 'Let's Dance' in front of a large LED wall, sporting pink eye shadow and a sparkly jumpsuit.
AFP
Gaga, born as Stefani Germanotta, won the longest ovation of the night at the Staples Center in Los Angeles as she finished the medley with 'Heroes,' one of Bowie's best-known songs.
The performance featured special effects provided by chip-maker Intel, including 'digital make-up' projected onto her face that enabled her to take on a number of Bowie's iconic looks without leaving the stage.
AFP
The company also provided a hologram of Bowie and a gold-colored piano with three robot arms that danced along to Gaga's playing.
The music industry's biggest night took place barely a month after the shocking death of Bowie, who over his half-century career became one of the most influential figures in pop culture.
The musician died on January 10 from a publicly undisclosed battle with cancer, two days after he released his final album, 'Blackstar,' on his 69th birthday.
AFP
The headline-grabbing performance marked another tour de force for Lady Gaga who, since her rise to stardom nearly a decade ago, has delighted in provocative gestures and outfits, most notoriously a dress made of meat she wore to the MTV Video Music Awards in 2010.
At last year's Oscars, she sang a medley of memorable tunes from 'The Sound of Music' to mark the film's 50th anniversary.
In December, she belted out an impressive rendition of Frank Sinatra's 'New York, New York' - in a tux and hat - at a concert in Las Vegas to mark what would have been the singing legend's 100th birthday.
'Hamilton' cast wows Grammys crowd
Music director Alex Lacamoire and actor, composer Lin-Manuel Miranda and cast of 'Hamilton' celebrate on stage the receiving of GRAMMY award after performance for The 58th GRAMMY Awards at Richard Rodgers Theater on February 15, 2016 in New York City. AFP
The cast of breakout hip-hop musical 'Hamilton,' about one of America's founding fathers, delivered an exhilarating performance at the Grammys Monday before the show picked up a coveted trophy.
'Hamilton' - whose music was written by Lin-Manuel Miranda, the star of the show - won the award for Best Musical Theater Album after a performance via satellite from New York that had audiences on their feet on both coasts.
AFP
"Yes! yes! We write music, we write songs to tell the story," Miranda said in an acceptance speech that was rapped rather than spoken, paying tribute to slain rap artists Biggie Smalls (The Notorious B.I.G.) and Tupac Shakur.
"The cast - unstoppable, band is unbeatable. Inimitable. Inevitable, always inspiring me to pull through," he rapped, to cheers at the Staples Center in Los Angeles.
AFP
The critically acclaimed Broadway cast performed from New York rather than appearing in Los Angeles - only the fourth time the nearly six-decade award ceremony has brought in a performance remotely.
Comedian and talk show host Stephen Colbert, who introduced the segment, described the musical, which looks at the life of Alexander Hamilton, as "like nothing you've ever experienced" and a "theatrical mixtape."
Actor Leslie Odom, Jr. (L) and actor, composer Lin-Manuel Miranda (R) perform on stage during 'Hamilton' GRAMMY performance for The 58th GRAMMY Awards at Richard Rodgers Theater on February 15, 2016 in New York City. AFP
Pharrell Williams clapped along as the performance earned rapturous applause in a live simulcast for the Grammys crowd in Los Angeles.
Follow Emirates 24|7 on Google News.