Lady Gaga hit has Madonna's blessing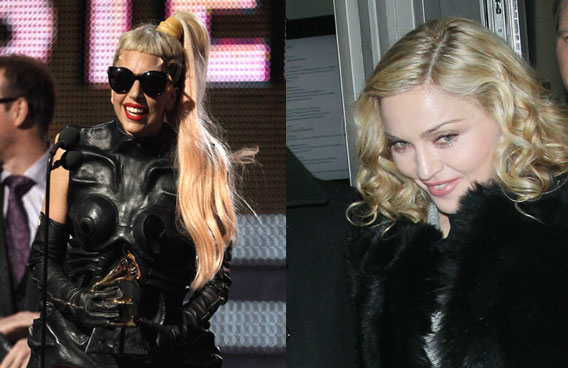 Eccentric singer Lady Gaga says her new dance single Born This Way has Madonna's blessing, after accusations the song is a rip-off of one of Madonna's 1980s hits.
Fans and music critics have likened Born This Way to the 1989 Madonna hit Express Yourself, but Lady Gaga has only heard good news from Madonna about the single.
"There is really no-one that is a more adoring and loving Madonna fan than me. I am the hugest fan personally and professionally," the 24-year-old singer said on the Tonight Show with Jay Leno.
"Well, the good news is that I got an e-mail from her people, and her sending me their love and complete support on behalf of the single, and if the queen says it shall be, then it shall be."
Born This Way is expected to storm the US charts this week after record-setting radio play and more than 450,000 downloads, music industry sources say.
It had sold more than 450,000 downloads in the first three days since its release on Friday, Billboard said quoting industry sources.
It also had a record-setting 4,602 radio plays in the US, according to Nielsen. That should see the single debut at number one when the Billboard Hot 100 charts are released on Wednesday, Billboard said.
Born This Way is the first single from a new Lady Gaga album scheduled for release on May 23.
Lady Gaga won three Grammys on Sunday after a headline-grabbing entrance to the event encased in a giant egg.
The singer and performance artist also told Leno that the opaque egg in which she arrived was a "vessel" and said she had been inside it for three days before her Grammys performance.
Follow Emirates 24|7 on Google News.