Lady Gaga lights up Super Bowl with inclusion message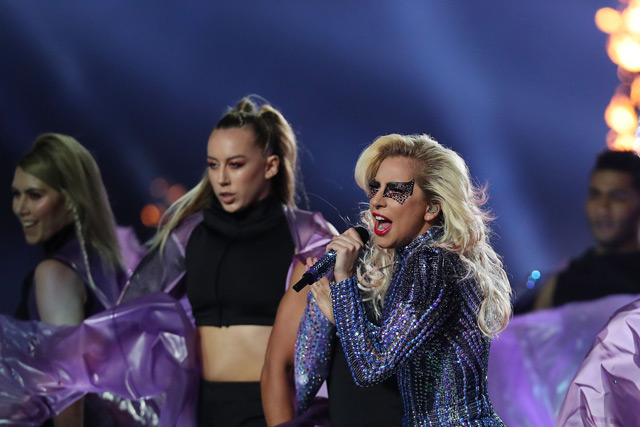 Lady Gaga dazzled the Super Bowl on Sunday with a high-tech, tightly choreographed halftime show celebrating American diversity and unity as she chose the power of showbiz over direct provocation.
Performing at American football's title match - generally the most watched US television event of the year - the pop diva electrified NRG Stadium in Houston with a pulsating medley of her greatest hits.
From the outset, Gaga served notice this was no ordinary halftime show - she began her performance from the lip of the stadium, an army of 300 drones forming a twinkling American flag in the sky.
Then she took flight.
The singer, clad in a sparkling silver bodysuit and knee high boots, leapt from the edge of the retractable roof onto the stage with the help of some sturdy wires - and the performance was nonstop from there.
Ahead of the show, all eyes were on Lady Gaga to see whether she would use the platform to rip into President Donald Trump at a tense time in US politics.
Even with Vice President Mike Pence in attendance, Gaga - a sworn foe of Trump - kept with the game's guidelines to steer clear of overt politics.
Instead the singer, known for her audacious outfits, delivered what seemed to be a more subtle message.
"How are you doing tonight, Texas? How are you doing tonight, America?" Gaga asked.
"We're here to make you feel good," she said.
She opened with "This Land is Your Land," the anthem by leftist folk legend Woody Guthrie that has come to be seen as an alternative national anthem for the United States.
Gaga then mixed up her biggest songs - from "Let's Dance" and "Poker Face" to "Born This Way" - an anthem of inclusion in which she speaks of acceptance of people regardless of ethnicity or sexual orientation.
She was backed up by an upbeat, ethnically diverse cast of dancers, who at one point joined in a group hug.
"No matter gay, straight or bi... You're Lebanese / You're orient," she sang. "Whether life's disabilities left you outcast, bullied or teased / Rejoice and love yourself today!"
Future for drones
With just 13 minutes at her disposal, Gaga could not pull off many changes of costume but by the end stripped off her metallic dress to perform in hot pants, football shoulder pads - and the stiletto-heeled boots.
She even changed her makeup, using peel-off crystals to alter her look to match her choice of song.
Her dancers made up for Gaga in terms of outfits, switching from flashy club attire to placid white.
Gaga literally dropped the mic - and caught a football at the end of the show as fireworks shot into the air.
Given that the Super Bowl being the most coveted advertising venue of the year, the drone army, designed by chip-maker Intel, ended in another show of Americana - commercialism, as they created the logo of sponsor Pepsi.
Intel described the halftime show as the most elaborate televised use ever of drones.
"The potential for these light show drones is endless," Intel executive Josh Walden said in a statement, saying the company planned to explore more ways to use the technology.
Super Bowl performances are rarely directly provocative, although last year Beyonce startled many by playing her single "Formation." Its video had a message against police brutality.
Follow Emirates 24|7 on Google News.