Lady Gaga stuns in Marc Jacobs in NY fashion finale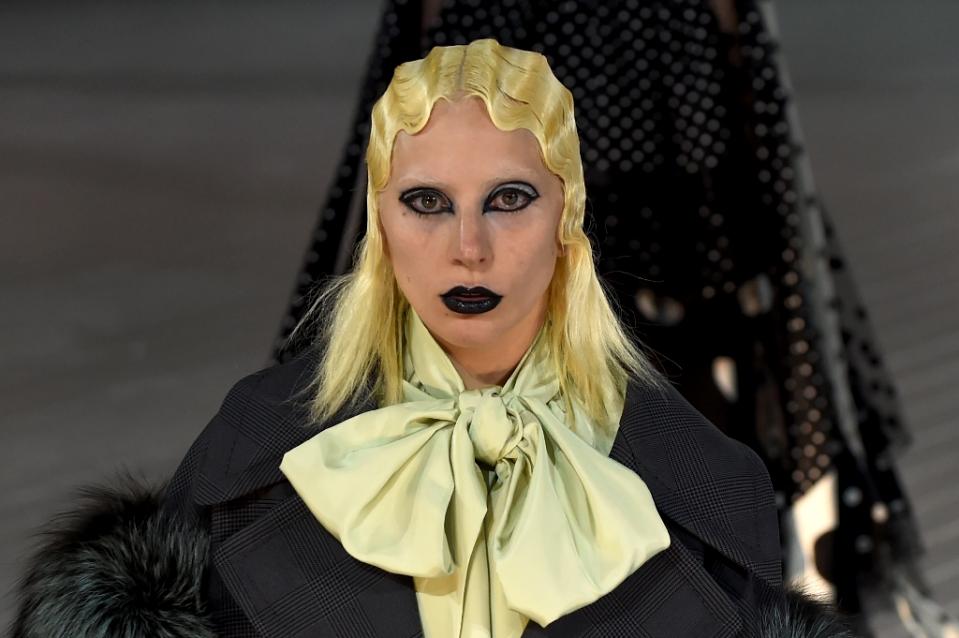 Lady Gaga powered down the runway for design legend Marc Jacobs in a triumphant finale to New York Fashion Week Thursday, showcasing a Gothic fantasy of oversized coats, full skirts and teetering platforms.
Jacobs, the darling of the US fashion scene, prides himself on closing out the biannual Big Apple fashion bonanza by putting on extravagant spectaculars - and his fall/winter collection was no exception.
He turned the Park Avenue Armory into a circular catwalk bathed in white, providing a dramatic backdrop to his meditation on black and all things Gothic, accentuated by incredible lace-up platform boots.
Lady Gaga walked the show with professional models just days after donning a Jacobs costume in her flamboyant tribute performance to the late David Bowie at the Grammy Awards in Los Angeles on Monday.
The pop diva wore a pale green pussy bow blouse with a giant, oversized black coat with huge fur patches on the sleeves. Her blonde hair was crimped in rigid waves.
Actress Maggie Gyllenhaal was among the stars sitting in the front row. Vogue editor in chief Anna Wintour was photographed wearing a custom-made Jacobs tee-shirt in support of presidential candidate Hillary Clinton.
The designer shored up his reputation as the most cutting edge, daring fashion mind in contemporary America, offering up a loose, oversized look of baggy pants, full skirts and lace detail at the neck.
It was a dark and brooding show, emphasized by heavy black eye makeup and fur accessories in the look that kept the slender form of his girls almost hidden in the giant clothes.
His models sported checks and there was a luxurious chessboard train, as well as plastic-looking black skirts with lace-effect cut out, and frayed hems. Splashes of purple came on small bags and his towering boots.
Ralph Lauren, the last word in wearable preppy chic, kicked off the day poles apart from Jacobs with a collection blending country gentleman and cowboy dandy styles, crowned by liquid gold evening wear.
British actress Sienna Miller was guest of honor, dressed in black, seated next to Wintour and Lauren's family.
Lauren made extensive use of plaid and checks with signature suiting that included loose-cut pants, blazers and trench coats finished off with men's ties at the throat - a meditation in taupe, truffle and mocha.
The suiting was lightened when styled with delicate cashmere knits, pleated silk crepe pants and silk shirts.
Liquid gold
Lauren's evening wear had its roots in a Victorian-era elegance, with frothy high-lace collars and black velvet, and a Prussian pigment printed coat that looked like a Romantic-era smoking jacket.
There was a stunning black velvet evening dress finished with oversized pleated white cuffs and a white ruffle at the neck worn by supermodel Karlie Kloss.
A black velvet cocktail dress was made in a similarly exquisite manner - embellished with tightly pleated black leather ruffle sleeves and a collar that defied gravity and made the outfit look like sculpture.
Lauren, 76, broke new ground by finishing the show with a mikado evening dress, its billowing skirts in his trademark style, but giving off the overall effect of liquid, glistening gold.
Animal magic
Francisco Costa, the Brazilian creative director at Calvin Klein, used a sun-drenched Tribeca loft to showcase New York cool - the look that defines the label and pioneers contemporary, urban fashion.
"It's the night before the morning after," Costa told AFP backstage, summing up the theme of the collection. It marked a return to tailored suiting for the brand, as well as novel use of fur for Calvin Klein.
Costa said he took brand innovation further by "pushing it into crazy, very fun prints as well, which is all photographic, is all very new to us."
Sharp suits were worn with low-cut V-neck slip blouses in silk and he followed a trend also seen on the catwalk at Vera Wang and Alexander Wang by using buckle and strap accessories.
There were large fur collars, another key trend of the season, and leather panels cut into skirts to create movement.
Plaids were mixed and matched - with different check patterns used on the two sleeves of a dress, a third plaid on the front and yet another on the back. Fur coats were chunky with textured panels.
In a slight break with the usual Calvin Klein look, Costa incorporated oversized tribal-style pendant necklaces and sewed large jewels onto the front of silk dresses. The models wore sensible loafers.
Follow Emirates 24|7 on Google News.