Lady Gaga wins three Grammys, swears on stage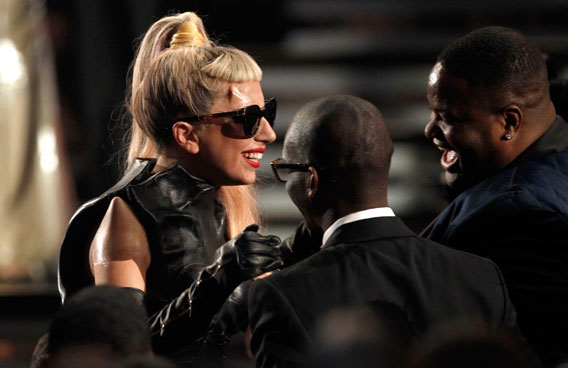 Rapper Jay-Z and flamboyant pop singer Lady Gaga overshadowed front-runner Eminem at the Grammy Awards on Sunday, winning three awards each by the midway mark.
Lady Gaga had the censors reaching for the mute button after she exclaimed, "Oh, s-!" when she accepted her third award, for best pop vocal album.
Urban pop singer Cee Lo, accompanied by singer/actress Gwyneth Paltrow and a band of Jim Henson puppets, censored himself when he performed "Forget You!," the family-friendly version of his nominated tune "F*** You!"
Bob Dylan, in a rare Grammys appearance, may have had viewers reaching for their mute buttons as the folk-rock icon croaked through a version of "Maggie's Farm" backed by acoustic bands Mumford & Sons and the Avett Brothers.
The star of the show, as far as millions of young girls are concerned, was likely best new artist nominee Justin Bieber. The 16-year-old Canadian performed acoustically, rolled out some African drummers, rapped with Will Smith's son Jaden, and danced with his mentor R&B singer Usher.
Jay-Z's trio of awards included a pair for his duet with Alicia Keys on "Empire State of Mind," a love letter to New York that will compete for record of the year later in the ceremony. The hip-hop star received six nominations in all.
Lady Gaga was honored for her album "The Fame Monster," and received two awards for her song "Bad Romance." She performed her new single "Born This Way" after hatching from an egg that was wheeled on stage.
She had time to change into a bondage-style outfit by the time she received her third award. After her outburst, she got serious by noting, "I had this dream when I was really young that I could be whoever I wanted to be."
Eminem, who leads the field with 10 nominations, received a single early Grammy. He will go head-to-head with Jay-Z for both record of the year and best rap album, and will also vie for song and album of the year.
But his losses to the likes of Jay-Z, Lady Gaga and even jazz icon Herbie Hancock indicated that the awards show would not be an early valentine to the rapper.
MIRANDA LAMBERT WINS FIRST GRAMMY
Country singer Miranda Lambert won the first Grammy of her career after making her Grammys performance debut with song of the year nominee "The House That Built Me."
British rock band Muse turned up the volume with their song "Uprising," and also won a Grammy for their efforts. The band bested the likes of Pearl Jam and Neil Young to win best rock album for "The Resistance."
However Young earlier won a Grammy for best rock song, the first time the veteran rocker had been recognized for a musical performance.
Other multiple winners included classical producer David Frost with four prizes, while British rock guitarist Jeff Beck and soul singer/songwriter John Legend had three each.
Country trio Lady Antebellum, also up for six awards, won two prizes for their song "Need You Now," which will vie for song and record of the year. Rock band the Black Keys and Usher also scored two awards each.
Follow Emirates 24|7 on Google News.