Lebanon's 'Ghadi': Down Syndrome child is an angel, not a demon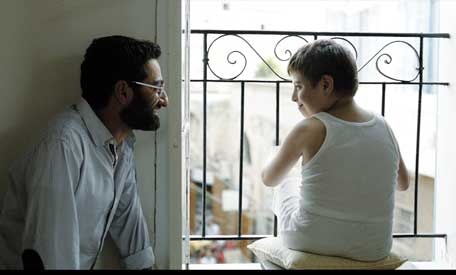 Let's say you're a family with only daughters and you're desperately praying for a son.
The baby boy finally arrives but you are ridiculed and verbally attacked by your entire town, because he was born with a birth defect.
What would you do?
Director Amin Dora with child artist Emmanuel Khairallah. (Supplied)
Well, that's what the new multi-award winning film 'Ghadi' is all about, starring award-winning actor Georges Khabbaz, also the writer of the heart-warming story.
Speaking to Emirates 24|7, Georges explained how he came up with the idea of how he and his buddies trick an entire town into believing that his son (played by Emmanuel Khairallah) is not a demon, but an angel.
"In Lebanon we have difficulties accepting differences. So based on this, the idea came, other than the fact that I have collaborated with an NGO that helps children with Down Syndrome, and through this experience I got to know children with Down Syndrome and it inspired me to write the story," said Georges.
Lead actor and screenwriter Georges Khabbaz. (Supplied)
The film is scheduled for its theatrical release this Thursday 19th February, at selected VOX cinemas across the UAE.
The unique plot is set in a small fictitious neighborhood in Lebanon, and it tells the story of a music teacher Leba (acted by Georges Khabbaz) who, along with his wife Lara (played by Lara Rain), struggle to bring up their child 'Ghadi' born with Down Syndrome.
The uplifting universal comedy grabbed the attention of Emmy-award winning director Amin Dora.
(Movie stills)
He said: "When I read the story, I thought - this is it! This is the story I want to do. The story really moved me, and I started directly to go into it."
Dora won the International Digital Emmy Award in 2011 for directing 'Shankaboot', the world's first Arabic Web Drama series, and in which he examined ground-breaking techniques of depicting everyday life in Beirut.
(Movie Stills)
He said he was instantly attracted to the writer's vision and saw it as an opportunity to work on how some of the general public view children with Down Syndrome.
"The main character Ghadi, that was the most exciting experience for my because I've never had this experience to be close to a child born with down syndrome, like Emmanuelle," explained Amin.
Dora added: "The film gave me a chance to get closer to Emmanuelle, he was very responsive, and later on we really connected, the shooting was very smooth, he's really talented and he really put his presence on the set, good vibes and good energy."
(Movie Stills)
Incidentally, actor and screenwriter Georges, is also a director.
So why would he have another director work on his idea?
Georges explained: "Having a different point of view on the same story add to the richness to the story, and working with Gabriel Chamoun as a producer and Amin as a Director, so I selected Amin as a director with his approval but it was Gabriel's decision, so there's 3 point of views from writer-director-producer that goes well in improving the final product."
With those clashes, was he ever tempted to throw a tantrum or act like a diva during the shoot?
"The character I'm playing in the movie is so humble and that of a dad really caring for the future of his son, that I could not afford to be a diva," quipped Georges.
The illustrious movie expresses diverse colours harnessing an aesthetic and cinematic feel.
"The story happens in a small neighbourhood, and I wanted to make it timeless and spaceless as this town exists in every part of the world.," said Amin.
He continued: "I tried to visually create this place with a choice of colours and looks in mind, for example almost all the men had moustaches! So it's crafted to make it look like a believable place."
It is known that films progress through the creative process although at times a film can transform intensely during the editing process.
As it's sometimes tough to merge the difference between what is anticipated and what is achieved, Amin spoke of how he dealt with this encounter.
"When you work as a director, your goal is to make the story alive, and this is what makes you evolve," said Amin.
And as the colours and emotions rush through the illustrative moving picture that was Lebanon's official entry into the Oscars, 'Ghadi' has a rich multitude of words to describe the flow of the uplifting story put before us.
But Georges Khabbaz summed it up in a few, yet powerful ensemble – "Source of humanity."
Follow Emirates 24|7 on Google News.