Leonardo DiCaprio Oscar win breaks Twitter, Facebook record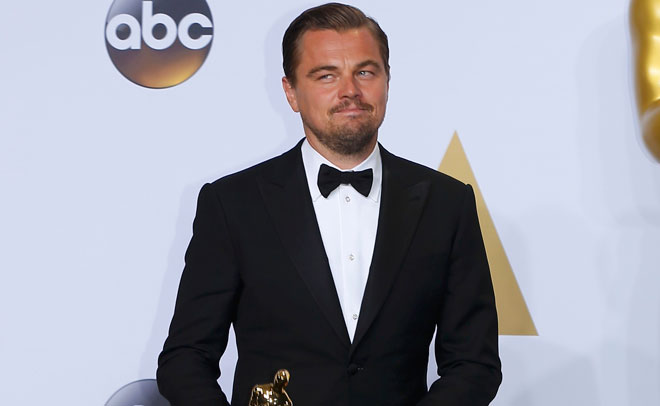 Leonardo DiCaprio's moment in the Oscar limelight on Sunday spawned a record-breaking burst of Twitter activity.
DiCaprio's best actor win for his starring turn in 'The Revenant' at the 88th Academy Awards - his first Oscar - generated more than 440,000 tweets per minute.
That made it the most-tweeted minute of an Oscars telecast ever, handily beating the previous record of 255,000 tweets per minute, set in 2014 when host Ellen DeGeneres tweeted a star-studded selfie.
He wrote on Twitter: "Thank you to the Academy and the incredible cast & crew of #TheRevenant. #Oscars"
After DiCaprio's win, the next most-tweeted Oscars moments were the 'Spotlight' surprise win for best picture followed by 'Mad Max: Fury Road' picking up its sixth statue of the night, for sound mixing.
Twitter said there were 24.2 million total Oscar-related tweets from 5:30 p.m. to 1 a.m. ET, yielding 3.9 billion overall impressions; last year, Twitter said 3.7 billion tweet impressions were viewed in a 48-hour period.
Still, Ellen DeGeneres' staged selfie with a gaggle of thesps (which was actually snapped by Bradley Cooper) may retain the title of most-tweeted Oscars moment.
In less than 24 hours, the post had been retweeted nearly 2.9 million times; as of Monday, it has been retweeted 3.34 million times.
Related Leonardo DiCaprio Uses Oscar Speech to Speak Out on Climate Change
On Facebook, DiCaprio also topped the buzz chart, followed by the 'Spotlight' win, Lady Gaga performing best-song nominee 'Til It Happens to You' and Alejandro Gonzalez Inarritu winning best director for 'Revenant.'
The world's biggest social service said 24 million people had 67 million interactions (posts, likes and comments) related to 88th Academy Awards, up from 21 million users and 58 million interactions in 2015.
DiCaprio's thank-you post on Facebook about the Oscars had more than 1.5 million likes as of 9 a.m. ET.
On Twitter, numerous celebs posted huzzahs for DiCaprio after he grabbed the trophy:
Ellen DeGeneres wrote: "He did it! He really did it! @LeoDiCaprio, I love you #Oscars."
Oprah Winfrey: "It Happppppened!! bravo Leo! standing O in my p.j's. #Oscars."
And guess who wrote a very sane message for Leo - Kanye West. "Finally!!! Our guy!!! We're so so happy for Leo!!!"
Melissa Joan Hart took to Twitter to congratulate DiCaprio: "Thrilled for Leo! Such a living legend and finally a well deserved chance to make his speech!"
Rachel Zoe wrote: "No one deserves this Oscar like @leonardodicaprio Congrats!!"
Actress Jessica Chastain's thoughts were the same as millions of other fans: "Its about time #Leo."
Elizabeth Banks "Leo is a class act. Congrats."
Victoria Justice: "Cheers Leo! After all these years, you deserve it!"
Follow Emirates 24|7 on Google News.