Lewis Hamilton celebrates Shanghai Grand Prix win with Swizz Beats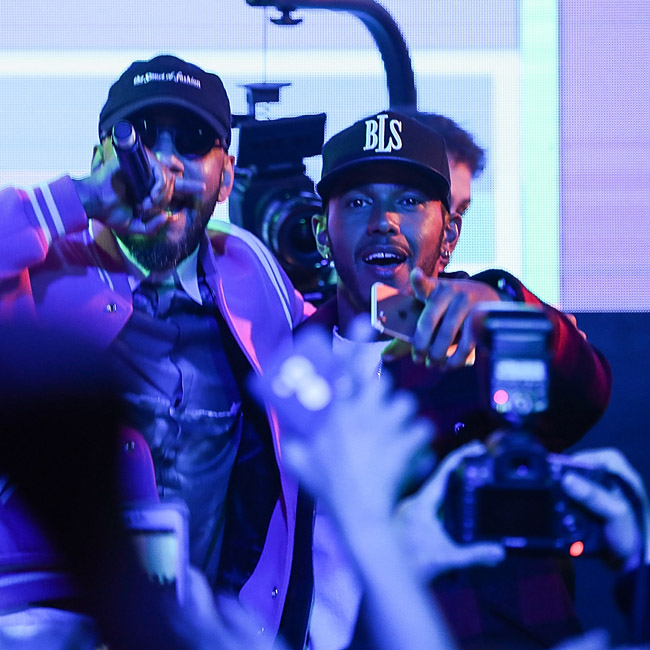 Lewis Hamilton partied until the early hours on Monday night with hip-hop star Swizz Beats to commemorate coming first in the Shanghai Grand Prix.
The Formula 1 racing driver - who is also a passionate aspiring musician - spent the night at the final evening of Bacardi's No Commission art fair - curated by Swizz and The Dean Collection - which saw him get up on stage with the 38-year-old producer - whose real name is Kasseem Dean.
The 32-year-old hunk joined in for Swizz's set closer with DJ Runna and DJ Verbal of the Teriyaki Boys.
The No Commission platform is a place for emerging talent to meet with established artists and get free access to the performing space, which is sponsored by Bacardi.
Zara Mirza, the Global Head of Creative Excellence for Bacardi Limited commented: "We always said that No Commission isn't just an event, it's a movement, and this year we're excited to be taking it to a global audience. We have been working really hard at Bacardi, across our entire portfolio of brands, to make a genuine impact on culture and to do that, you need to live it, breath it and be part of it. We don't just bring the music and the cocktails, we help provide a platform that can genuinely change lives, attitudes and opinions."
Lewis has been living it up in the city in China having recently checked out the world-famous panda research sanctuary in Chengdu last week.
Lewis - who is rumoured to be romancing Sofia Richie - was keen to get some sightseeing in before the big race and took the opportunity to see the Panda Nursery House and its iPanda HQ, where he took control of the enclosure cameras.
And his excursions didn't stop there as he then stopped by a traditional restaurant on Wide and Narrow Street, which the president of Germany also recently visited, to learn how to make sweet sticky rice balls.
His day of sightseeing drew to a close with lots of food as he stopped by the famous Sichuan Hot Pot restaurant Chengdu Huangcheng Laoma, previously visited by Michelle Obama, and the Shunxing Old Teahouse restaurant to sample more Sichuan Cuisine and take in the famous Sichuan Opera shows.
Speaking of his exciting trip, he said: "Today has enhanced my love for China and its people, its values and culture; Chengdu is a beautiful city and I can't wait to come back."
Follow Emirates 24|7 on Google News.