Linda Brown, who helped end US school segregation, dies at 76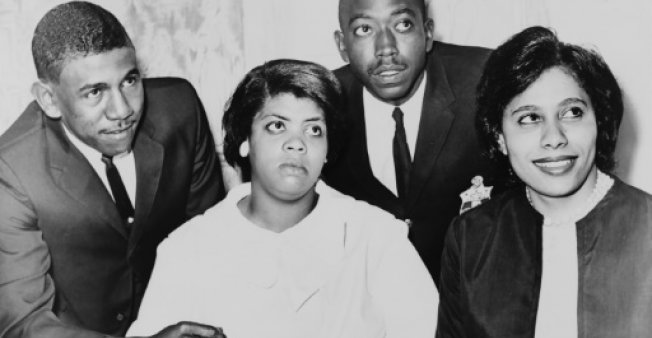 Linda Brown, who was at the center of the 1950s court battle leading to the desegregation of US public schools, died Monday, the organization that spearheaded the landmark legal effort said.
The US Supreme Court ruling on the Brown v. Board of Education case in 1954 was a key moment in the movement to end widespread discriminatory practices against black people in the United States, but discrimination, racism and racial tensions still plague the country more than 60 years later.
"Linda Brown, who was one of the young students at the heart of the landmark Brown v. Board of Education case, passed away today at age 76," said a statement from the National Association for the Advancement of Colored People's Legal Defense and Educational Fund (LDF).
Brown "is one of that special band of heroic young people who, along with her family, courageously fought to end the ultimate symbol of white supremacy -- racial segregation in public schools," the LDF's president Sherrilyn Ifill said.
"She stands as an example of how ordinary schoolchildren took center stage in transforming this country," she said.
"It was not easy for her or her family, but her sacrifice broke barriers and changed the meaning of equality in this country."
While the NAACP said Brown was 76 at the time of her death, her age was elsewhere reported to have been 75.
The organization did not provide details on what caused her death.
In the early 1950s, Oliver Brown sought to enroll his daughter in an all-white school near the family's home in Topeka, Kansas, but was told she had to go to an all-black school that was farther away.
Brown turned to the courts for justice in a case that was part of an anti-segregation push by the NAACP.
The Kansas case was combined with others from Delaware, South Carolina and Virginia as well as the capital, Washington, when they were appealed to the US Supreme Court, becoming the ground-breaking Brown v. Board of Education.
- 'An incredible impact' -
On May 17, 1954, the Supreme Court unanimously ruled that segregation was unconstitutional.
But segregation was far from over despite the court ruling, and integration was bitterly opposed by some whites.
President Dwight D. Eisenhower deployed American soldiers when the Arkansas governor blocked African-American students from being integrated into an all-white high school in the state's capital Little Rock in 1957.
Though segregation was illegal in schools after the Brown v. Board ruling, it nonetheless continued because of opposition from racists as well as due to the prevalence of separate black and white neighborhoods, which led to de facto segregation in local schools.
Busing students from their home neighborhoods to schools in other areas was begun to address the situation, but that move was still being contested more than 20 years after Brown v. Board.
Schools were not the only segregated areas in America: there were also separate restaurants, bathrooms and water fountains for blacks and whites in parts of the country -- something protesters held sit-ins to oppose as part of the civil rights movement.
Even now, racial tensions continue to plague America -- where black people have faced hundreds of years of discrimination and slavery -- and African-Americans still make up a disproportionate percentage of the country's incarcerated and poor.
Kansas Governor Jeff Colyer paid tribute to Brown in a Twitter post on Monday.
"Linda Brown's life reminds us that sometimes the most unlikely people can have an incredible impact and that by serving our community we can truly change the world," Colyer wrote.
And the American Civil Liberties Union rights group hailed the impact of the court case.
"The Brown decision made America a beacon of hope to the rest of the world; it taught us that we could, through the rule of law, end a kind of oppression and race-based caste system," the group said on Twitter.
"Today we honor Linda Brown and all the fights we have left to win."
Follow Emirates 24|7 on Google News.