Lindsay Lohan charged with stealing necklace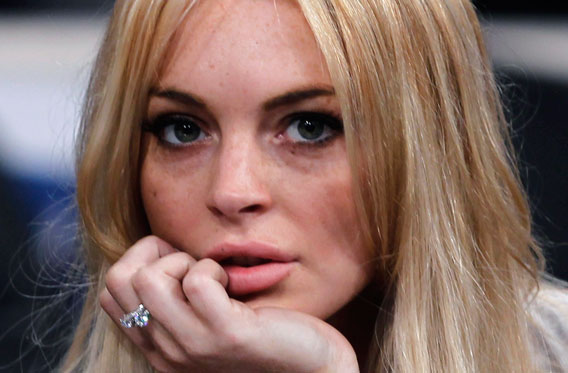 Troubled US starlet Lindsay Lohan pleaded not guilty Wednesday to stealing a 2,500 dollar necklace from a Los Angeles jewellery store, in her latest brush with the law.
The actress, who is on probation for a 2007 drink driving offence and recently checked out of drug rehab, could face up to three years in jail if convicted on the grand theft charge.
Dressed in a tight-fitting short white dress with sunglasses and a pony-tail, the 24-year-old said nothing as she arrived 20 minutes early at the court near Los Angeles airport, to be mobbed by a huge media scrum.
The judge granted her release on 40,000 dollars bail - but warned her she would be detained without bail if she breached her probation terms again.
"You need to follow the laws just like everybody else," Judge Keith Schwartz told her. "You're no different than anyone else, so please don't push your luck," he added.
"Do you understand what I'm telling you?" he asked.
"Yes sir," replied Lohan, who was ordered to return to court on February 23.
Lohan, who completed a court-ordered spell in rehab for drug addiction last month, allegedly walked out of the jewellery store in Venice Beach - the seafront area of LA where she lives - with the gold necklace on January 22.
"The owner reported the theft to the Los Angeles Police Department, which investigated the allegation and presented evidence to the D.A.'s office last week," said LA deputy district attorney Danette Meyers.
"If convicted, Lohan could face up to three years in state prison," added a statement by the district attorney's office, although observers said it was unlikely she would be given the maximum term for a relatively minor theft.
Lohan's latest legal entanglement has generated huge media coverage, as usual - including discussion of whether her short white dress was appropriate for a woman facing a felony charge.
Celebrity lawyer Mark Geragos, who has defended stars including Michael Jackson and Winona Ryder, told CNN the color was right at least, explaining: "You don't want to go in... looking like you're dressed for a funeral."
The actress checked out of the Betty Ford clinic near Palm Springs last month, following a spell there after she was briefly jailed in September for failing a court-ordered drug test.
Lohan was sentenced in July to serve 90 days in jail and another 90 days in rehab for violating her probation in a drunk-driving case. But due to jail overcrowding, she served just 13 days before being freed to the detox facility.
She was jailed again on September 25, but granted bail after only 15 hours behind bars and subsequently checked into rehab.
A queen of Hollywood nights and a favorite target of the paparazzi, the former Disney child star was once considered one of the most promising actresses of her generation.
But Lohan's career has dipped many times since 2005 amid legal woes, visits to rehab and movie flops.
In 2007, she spent just 84 minutes in jail after police arrested her twice for cocaine possession while driving - in one instance crashing her Mercedes-Benz into a tree.
In 2008, the "Parent Trap" star received two Razzie Awards, the satirical prizes presented to Hollywood's worst acting performances.
Follow Emirates 24|7 on Google News.