Losing it all: Sonakshi gives Deepika, Kareena a run for their money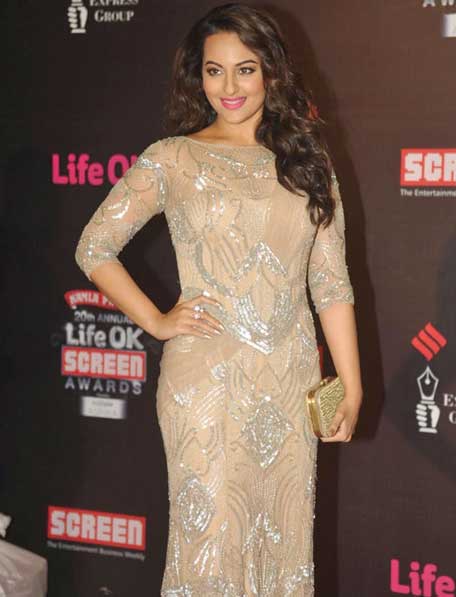 Bollywood actress Sonakshi Sinha says she has stopped reacting to comments on her weight.
But that doesn't mean she has stopped working on it.
Going by her recent appearances on the red carpet the fuller Sonakshi looks all set to target colleague Deepika Padukone's waistline.
The future star of Bollywood was a hot topic of discussion due to her ever increasing weight. So much so, that her mentor and 'Dabangg' co-star Salman Khan urged her to lose the extra kilos.
The curvy lady took his advice seriously and worked (really) hard.
Sonakshi Sinha poses for a photograph during the 'Renault Star Guild Awards' ceremony in Mumbai. (AFP)
At a recent award functions Sonakshi is turning heads with her new found style mantra and shrinking waistline.
During the Star Screen Awards the 'Lootera' lady wore a nude and silver Amit GT gown accessorised with Viange jewelry. The soft waves of her hair and the lovely pink lips complimented her shimmering dress.
Sonakshi Sinha poses during the launch of "Once Upon A Time in Mumbai Again2". (AFP)
After being written off again and again as a fashion disaster Sonakshi seems to have transformed her image with a vengeance.
And guess what? Sonakshi turned out better than Deepika Padukone and Kareena Kapoor Khan at the Star Guild Awards.
A stunner at the do - Sonakshi knocked out whatever extra flab that bothered others and seems to have hired a new stylist too.
In a Rachel Roy black jumpsuit teamed with a pair of spiked Steve Madden heels, she gathered all the right compliments.
(AFP)
When Kareena Kapoor shared the frame with Sonakshi, wearing a pearl and gold gown, the latter stole the show.
In a rare fashion faux pas we caught Deepika Padukone wearing a black and blue Shehlaa lehengaa (skirt) with a short choli (blouse). The hair, the accessories and the billowing skirt was not flattering at all.
Deepika Padukone poses for a photograph during the 'Renault Star Guild Awards' ceremony in Mumbai. (Sanskriti Media and Entertainment)
And thus our new fashion diva - Sonakshi Sinha takes home the trophy of best dressed lady at the Star Guild Awards.
She has suddenly turned a new leaf. The very polite and diplomatic Sonakshi has expressed her disappointment about no nominations for her critically acclaimed 'Lootera'.
(FILE) Sonakshi Sinha at the Colors Screen Awards. (AFP)
Expressing her subtle anger on social platform WhoSay, the actress wrote, "Disheartening how Lootera has been held back from most of the nominations this year!
Dint they call it a masterpiece/poetry in motion/world class/technically superior film when it released? That seems like qualification enough to be out there.
Not nominating Vikram Motwane for best director, ranveer for acting, amit trivedi for music, shetty for cinematography, aditya for art, subarna for costume, amitabh for lyrics makes my nomination feel so out of place!
Vikram motwane, u will and always be best director for me! Ranveer, amit trivedi, shetty, aditya, subarna, amitabh bhattacharya and everyone associated with this very special film will Always be proud of Lootera whether or not they acknowledge us :)".
With new found voice and shedding her diplomacy Sonaskhi Sinha is definitely more like her firebrand father's (Shatrughan Sinha) daughter now.
Follow Emirates 24|7 on Google News.