Madhuri's magical 'Dedh Ishqiya' running housefull in Pakistan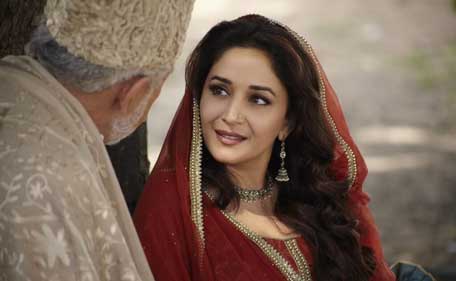 Madhuri Dixit's honey-laced magical tone calling out 'Iftikhar' to Naseeruddin Shah in 'Dedh Ishqiya' has hit the right note in the hearts of fans in Pakistan.
The satirical dialogues, delivering dark and nuanced humour with such confidence in masterful Urdu poetry seem to have worked in favour of the film in Pakistan.
Despite the last minute release theatres were running full.
The film hit the screens on Friday (January 10, 2014).
The prints reached Pakistan only by Friday afternoon and the censor board gave their nod by seven (7 pm) in the evening.
The theatres were not sure if they will even get to show the film.
No promotional activity, no posters, no release announcement but the distributors were presently surprised to see their late night (1.30 am) show running housefull.
The film is being shown on 35 screens, including single screens. However, the footfall in multiplexes is overwhelming compared to the single screen theatres.
During weekend, the multiplexes were full and all shows including the night show were running housefull. Considering Monday and Tuesday are public holidays in Pakistan the Babban (Arshad Warsi) and Khalujan's (Shah) menace will continue.
A sequel to the 2010 Ishqiya, director Abhishek Chaubey's small-town saga sees Naseeruddin Shah and Arshad Warsi reprising their roles of Khalujaan and Babban, respectively, from the previous movie.
At the face of it, 'Dedh Ishqiya' is about a necklace, a rich widow and the two criminals who want to own both.
The film about these conmen trying to steal both heart and riches is full of secrets, subtexts, satire and homages to the likes of Begum Akhtar, Ghalib, Dr Bashir Badr and Lihaaf (Ismat Chughtai).

The makers are confident that the film will do good business in Pakistan.
Indian cinema has always been popular in Pakistan and audiences look forward to watching Bollywood films, since the cultures are similar.
Madhuri Dixit, the breathy seductive Begum Para, who made a comeback after seven years with the film, did help in luring audiences.
'Dedh Ishqiya' is not a typical 'over-the-top' movie, has received rave reviews from the critics when it released on Friday and collected about Rs10 crore at the domestic box office.
Directed by Abhishek Chaubey, Madhuri plays the role of a fading begum in the film and is joined by 'Gangs of Wasseypur' actress Huma Qureshi.
Glimpses of the prequel ('Ishqiya') can be seen in the performances of Naseeruddin Shah and Arshad Warsi who have reprised their roles of Khalujaan and Babban respectively.
Follow Emirates 24|7 on Google News.