Malayalam actor Mani laid to rest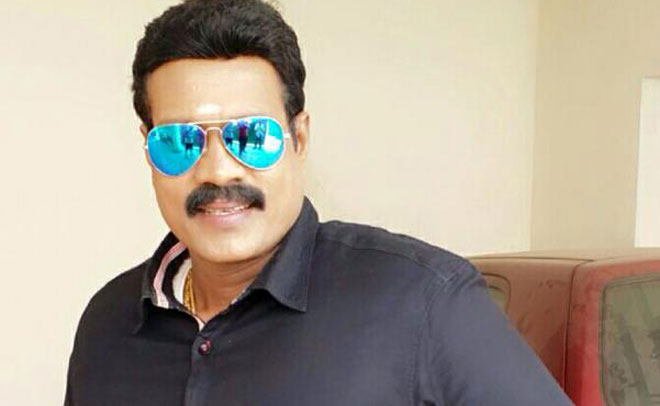 Thousands thronged the residence of Malayalam actor Kalabhavan Mani in Chalakuddy to bid their farewell to an actor who had entertained them over two decades.
After news of his untimely death surfaced, fans and friends of Malayalam actor Kalabhavan Mani have expressed their heartfelt condolences.
Indian PM tweeted his condolences. "A promising career is cut short. Kalabhavan Mani was multifaceted and popular. Pained by his demise."
"Sad about my friend Kalabhavanam Mani. One more of my Malayalee brothers dying of cirrhosis. He had more talent than time," tweeted actor Kamal Haasan.
Actress Manju Warrier, who had acted with Mani in her debut movie, posted an emotional tribute to him on her official facebook page. "I used to think then that Mani chettan took birth only to make other people smile," she wrote, before concluding, "Yesterday, Mani chettan made me cry for the first time. When the people, who make us laugh, compel us to cry, the pain and sorrow is greater. In that last moment, Mani chettan is sitting above but he is not singing. He is looking down below and smiling."
Actor Mammootty told Malayala Manorama that he is yet to come to terms with the news. "Mani was a younger brother who would come to me with a bowed head and teary eyes if he erred in some way. He considered my house as his."
According to news channel Malayalam Manorama, the shutters were down on all shops and trade centres in Chalakuddy as a mark of respect to the actor.
His body was kept at the Thrissur Medical College Hospital, Kerala Sangeeta Nataka Akademi, and the Chalakudy municipal office so his fans could pay their last respects.
The cremation was held with state honours in the compound of his residence on Monday evening.
The actor's death had sparked suspicions of 'unnatural death' after traces of methanol were found in his blood samples, and his body was sent for autopsy at the Thrissur Medical College Hospital.
The final reports released later revealed the actor was suffering from severe liver damage. The officials are still awaiting the forensic report.
Earlier Report: Kerala actor Kalabhavan Mani cremated
Malayalam actor Kalabhavan Mani was cremated on Sunday evening at his hometown Chalakkudi in Kerala's Thrissur district.
He received full state honours, as teary-eyed emotional fans, family and friends from the film fraternity paid their last respects.
The autopsy report of Kalabhavan Mani, who died on Sunday after admission to a private hospital in Kochi, establishes that his liver was severely damaged.

The authorities are still awaiting forensic test results, to check the traces of methanol in his organs. It is only after this is released that the exact cause of death can be established.

Mani was admitted to a hospital in Kochi after vomiting blood, which had raised suspicion.

A police team, including forensic experts, was sent to the actor's outhouse in Chalakudy where he was found unconscious before he was rushed to the hospital. According to ManoramaOnline, police have questioned five people in this regard.

His family had requested the autopsy to establish the exact cause of death.

It is reported that Mani had been long suffering from liver and kidney-related ailments, and has been undergoing treatment.

According to thenewsminute, a case of unnatural death was registered by the Chalakudy police. An FIR was filed under Section 174 CrPc at the Chalakudy police station, based on a complaint lodged by the actor's brother Ramakrishnan.

His body was sent for post-mortem at the Government Medical College Hospital in Thrissur.
India's 'The Hindu' newspaper quoted actor Edavela Babu, "A decision on whether to keep the body for the public to pay homage in Thrissur would be taken later. Efforts are on to conduct the cremation at Chalakudy by Monday evening."
Mani, who worked as an auto-rickshaw driver, found his true calling as a mimicry artist. The move into the Malayalam film industry was gradual, with his acting debut in the 1984 popular children's movie 'My Dear Kuttichathan'. It wasn't until 'Sallapam' in 1996 that his efforts were noticed. His big recognition came in 2000, when his portrayal of a blind man in the family drama 'Vasantiyum Lakshmiyum Pinne Njanum' won him the special jury award at the national and the state level.

With a career spanning nearly two decades, Mani has acted in over 200 Malayalam and Tamil movies.

Mani was known not just for his unique acting style, but also his deep voice. Apart from acting, he has also sang in 25 movies, and has been a regular at music concerts.
The actor's death came as a shock to the Malayalam fraternity. Many rushed to the hospital to pay homage, and even took to their social media platforms to express their condolence. Actors Dileep and Manju Warrier were the first few to reach the hospital.
"RIP Mani chetta! A huge loss to our industry. Have always had such warm interactions with him. Can't believe it," wrote actor Dulquer Salmaan.
"The ethnic sound of Malayalam cinema is gone silent...irreparable loss RIP Kalabhavan Mani," tweeted Resul Pookutty.
"Yet another sad news and a big loss to the industry versatile actor Kalabhavan Mani is no more with us shocking. Life is so fragile," wrote Lakshmi Rai.
"Very sad to hear that Kalabhavan Mani is no more. Super talented actor of Malayalam cinema," wrote Kushbhoo.
The actor is survived by his wife and daughter.

The year has started out on a rough note, with the Malayalam industry losing actor Kalpana, lyricist O N V Kurup, directors Rajesh Pillai and Mohan Roop, cinematographer Anandakuttan, composer Rajamani and musician Shan Johnson.

Follow Emirates 24|7 on Google News.