Mammootty's son Salmaan's Dubai bond and coming into his own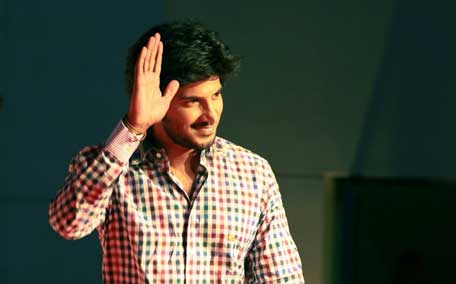 Despite being born with the quintessential silver spoon, Dulquer Salmaan was unconvinced about whether he deserved to inherit a life in the spotlight. While his peers might have been envious of his superior bloodline, he struggled to fight the star-kid stereotype.
"I didn't think I deserved to become an actor just because I was my father's son," the actor honestly admits during an exclusive tête-à-tête with Emirates24|7.
Born to the magnanimous Malayalam actor Mammootty, Dulquer feared botching his dad's illustrious legacy. "I even thought I'd pursue directing because it would eliminate any direct comparisons," he concedes, before adding, "Not that directing is simple."
His confessions are a reflection of his honesty, and his genuine want to do what his heart desires, and not what his genetics dictate.
He initially side-tracked into a world of business, only to finally give into destiny and return to where he truly belonged – in front of the camera.
"I've found my true calling," he blissfully declares, revealing how he's hooked and could go on days without food or sleep just to get a shot right. It was his short-films as a rookie that was shortlisted for a contest that was his "biggest (self) discovery".
Two years on, and nine movies old, he's assuredly stepped out of his father's glorious shadows.
While he has confidently tackled his initial stage fright and taken on his fears head-on, Dulquer still considers himself a "newcomer", never once allowing the success and adulation to blind him.
"Whether it's success or failure, I'm not one to gloat about it because I've seen this my whole life."
He's equally amused about the tradition of fans associations for every actor in Kerala. "It's very sweet though, and they work hard to promote our films." However, he explains his awkwardness at using the term "fans". "I rather call them film-goers. I think Rajnikanth sir and my dad, and Robert Di Niro can have fans, not me."
Interestingly, Dulquer, unlike his peers, refused to hog the media limelight and decidedly trimmed down media interactions, devoting time for his work instead. "Besides my father, there was nothing to ask me. And, it'd sound repetitive," he explains.
Dulquer has since come a long way and exuberates wisdom of a seasoned actor. His life, he discloses, has taken a 360 degree turn.
We caught up with the actor, while he was clocking the hours for Anjali Menon's 'Bangalore Days'.
It wasn't about being just a star-son, but being son to Mammootty Dulquer battled his deep insecurities and was daunted about being unable to fill his dad's shoes. "I thought it's best to stay away, and keep his (Mammootty's) name intact. I'm like the typical children of famous fathers, who have to fight that big legend looming over their heads."
Fighting his own fears
He acknowledges that some star-kids take to cinema more naturally than others, but he was "generally shy and nervous", and admittedly "fumbled and mumbled" while speaking in public.
Even his looks, he believes, was a hindrance. "I don't think I'm very obviously good-looking, and this is an honest confession," he chuckles, revealing how it "was one of the many doubts" he had before taking up acting. "It could also be because I'm the son of probably the best looking man ever."
The turning point
It was when he drifted away from the glare of the spotlights into a world of business and life in the US, and later Dubai, that he met people, genuinely pursuing their cinematic passion without any backing. "I felt it took guts to take on something as uncertain as cinema. That influenced me. I didn't want to let the opportunity go waste," he adds. "I knew entering the industry would always be easy. It was only about lasting that was the big question."
Mammootty's no fall-back policy
Although Mammootty does watch over him like any normal father, he's fairly determined about letting Dulquer take control of his own journey, allowing him to make the successes and failures his own. "The greatest thing about my dad is that while I can walk up to him and talk about anything, he still wants me to figure this out on my own."
And, contrary to what tradition would dictate, Mammootty doesn't help him choose scripts. "My sensibilities are different from my father's. So, I don't think it would be smart to get into each other's space."
Being his father's die-hard fan
"Back in the day, I'd go watch my dad's movies in the theatre. And, even if someone in the crowd booed him on-screen, I'd feel bad. For me, I don't like anyone criticising him or his movies."
Lifting the lid on the infamous MohanLal-Mammootty rivalry While every true-blue Malayali would endorse the "raging rivalry" between two of the movie industry's biggest stars, Dulquer throws light on how the legends share immense love for each other. "They get along amazingly. This competition or war-fare is between their fans, not them," he divulges.
It's when he watched 'Rush' (a Hollywood masterpiece centered on the legendary rivalry between race car drivers James Hunt and Niki Lauda) that the dynamics between Lal and Mammootty struck him. "They compete sure, but it's fun, healthy competition."
He adds, "I think if one of them quit films, the other will follow. Or if one remains, then they wouldn't push themselves into doing such great work." It's the fierce competition that forces them to "better themselves".
His unusual debut
Dulquer defied the clichés and refused to trek the path often taken by star-sons and chose to play an incorrigible, volatile outlaw in an unconventionally explosive 'Second Show' to "test the waters". Created by a crew of first-timers, he felt the risk would be far less because he'd be making "mistakes along with them".
Entering marital bliss before the acting bug bit him Movie tradition dictates that it's the single young blokes who gain cinematic glory, but being the game-changer that he was, Dulquer altered it and got hitched before donning the greasepaint. He declares "she (Amal) was the greatest girl" he had ever met, and "felt it was the right time to get married".
The second movie litmus test
Most second generation actors claim how their clout wins them their first film, but it's the second one that's hard to click. For Dulquer, however, his second movie proved to be his winning trophy. His amiable take on Faizy in the uplifting 'Ustad Hotel' got him instant gratification. "I don't think any of us imagined 'Ustad Hotel' to become what it became. Of course, it was a wonderful script from the get-go, but it didn't have typical ingredients to make it a hit-film."
While Faizy is probably his most applauded character to date, Dulquer "wants to break away from it".
Believes he has not yet "arrived"
"The day I realise that I've got it all figured out I'd be finished. You won't push yourself any more," he instills. Probably that's why he gives criticism more prominence over the praises. That said, he's trying not to dwell on the negativity or positivity. "I should follow my heart and do the films I want to do."
Box-office success or critical acclaim
"Whatever it is, I think you should spend just that weekend on it. If my film is critically-acclaimed and it doesn't do well at the box-office, it would affect me. Especially in a country like ours, where the success is measured by that," he says, hinting at a business degree that didn't go wasted.
Why he refuses to watch his movies in the theatre "I don't go but all the women in my family do. I'm not comfortable in the big crowds, and also because of the awkwardness of seeing myself on-screen."
Any favourites or regrettable characters from his nine "I have no regrets. I've always been excited about all those scripts. I've tried to do characters different from the last, even though people say I always do NRI roles. For me, Faizy ('Ustad Hotel') is a complete opposite of Jones ('ABCD')."
His biggest critic
"That's kind of like a grey area because all the women in my family and my friends, tend to say I was good but would find faults elsewhere." Probably the only negative comment innocently came from his six-year-old nephew who pointed out that Dulquer wore the Spiderman suit in 'ABCD' the wrong way. "Although, I didn't think so!"
His Dubai connection
Having lived in the emirate for over two years, he has developed a strong bond for Dubai. "Dubai's one of my happy places," he announces. "My wife and I, always plan a holiday in Dubai." His love for wheels often leads him to the desert. "I've driven SUVs into the desert and got stuck there, and had locals help me out. I thought the only way I'd learn desert driving is if I explored myself."
Bollywood?
"I've always been open to the idea of attempting other languages. I've listened to scripts in Tamil, and some in Hindi. But I haven't signed anything yet."
First bilingual movie
"I started off in my career saying I wouldn't attempt bilinguals. I feel one language always ends up getting compromised." But, he broke that ground rule for director Balaji Mohan's 'Vaayai Moodi Pesavum' because he identified with his "style of city-centric stories and his quirky sense of humour".
His luxuries
The movies, he says, apart from bringing him immense love and gratification, also allows him many indulgences. Being a car fanatic, he got himself a "work car" with his pay cheque and modified it to his heart's content. Apart from that, he's just a regular bloke, who loves splurging on designer finery and suiting himself for his public appearances.
Follow Emirates 24|7 on Google News.