Mariah Carey claims NYE performance was sabotaged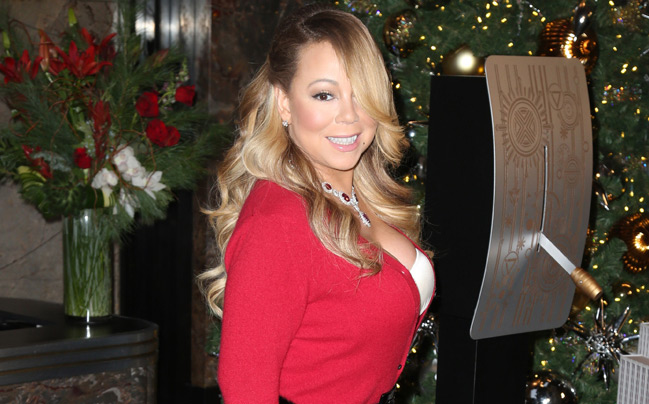 Mariah Carey's manager claims Dick Clark Productions are responsible for the star's poor performance at Times Square in New York on NYE.
The 46-year-old singer stormed off stage after technical difficulties at the Times Square gig in New York marred her performance and her manager Stella Bulochnikov has blamed the producers.
In a letter sent to Dick Clark Productions, and obtained by the New York Post's Page Six, Stella raged: "You know her inner ears were NOT working and your entire production team did not set her up to win.
"AND MARIAH KEPT TELLING THEM ON STAGE IN REAL TIME.
"THEY KEPT IGNORING HER. SHE TOOK A HIT HONORING HER COMMITMENT TO YOU. I SHOULD HAVE PULLED HER OFF THE STAGE THIS IS SABOTAGE (sic)."
Stella told Billboard in a statement: "We told them [the stage managers] that the in-ears were not working 10 minutes before the performance. They then changed the battery pack, and they were still not working on the frequency four minutes before the show. We let them know again, and they just kept counting her down and reassuring her that they will work as soon as they go live, which never happened -- at which point she pulled them out but could not hear the music over the crowd.
"After the show, I called [Dick Clark Productions'] Mark Shimmel and I said, 'What the f**k happened?' He said, 'Let me call you back,' then called me back and confirmed the in-ears were not working and asked if I would make a joint statement. I said, 'No way.' I asked him to cut the West Coast feed. He said he could not do that. I asked him why would they want to run a performance with mechanical glitches unless they just want eyeballs at any expense ... It's not artist-friendly, especially when the artist cut her vacation short as a New Year's Eve gift to them."
However, Dick Clark Productions have denied the claims, saying: "As the premier producer of live television events for nearly 50 years, we pride ourselves on our reputation and long-standing relationships with artists. To suggest that DCP, as producer of music shows including the American Music Awards, Billboard Music Awards, New Year's Rockin' Eve and Academy of Country Music Awards, would ever intentionally compromise the success of any artist is defamatory, outrageous and frankly absurd. In very rare instances there are of course technical errors that can occur with live television, however, an initial investigation has indicated that dcp had no involvement in the challenges associated with Ms. Carey's New Year's Eve performance. We want to be clear that we have the utmost respect for Ms. Carey as an artist and acknowledge her tremendous accomplishments in the industry."
Follow Emirates 24|7 on Google News.