Mariah Carey enjoys birthday beach getaway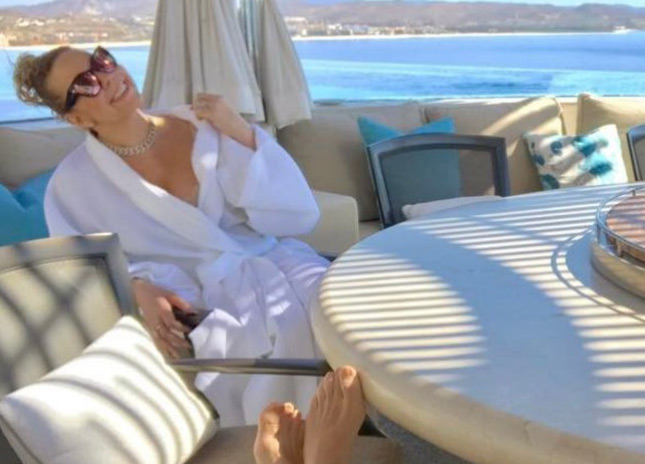 Mariah Carey has been celebrating her birthday on a tropical getaway with her boyfriend Bryan Tanaka.
The 'Without You' hitmaker celebrated her 47th birthday - or anniversary as she calls it - in style on Monday as she took to the warm sands of a tropical beach resort with her boyfriend and dancer Bryan.
Posting a picture of the pair relaxing in the sun, Bryan wrote on Instagram: "Starting the anniversary festivities in a relaxing chic environment. #HappyAnniversary (sic)"
And the 33-year-old choreographer also posted a picture of himself admiring the sea view, which he captioned: "Everyone can use a little zen time. Soaking in the moment and recaliberating my spirit. #MuchLove#BlessingsOnBlessings (sic)"
The 'We Belong Together' musician also took to Instagram to share a photo of herself holding up two neatly wrapped presents.
She captioned the snap: "Let the anniversary festivities begin (sic)"
Despite the pair both taking to the photo sharing website to post about their trip, Mariah previously claimed she wants their romance - which blossomed after the star split from her ex-fiancé James Packer - to stay out of the spotlight.
She said: "I'm just going to be like 'I really don't talk about my personal life.' Because that's what I used to do and it really worked for a minute, back, a while ago.
"I just don't feel comfortable talking about my personal life. Me and my boyfriend don't want to do that."
Meanwhile, the 'Fantasy' singer - who has five-year-old twins Moroccan and Monroe with ex-husband Nick Cannon - recently admitted she finds songwriting to be "very healing".
She said: "I need to be in the studio. I feel like a different person when I'm not in the studio.
"Performing is a whole different thing, but being in the studio is creating and that's what I love to do best. Songwriting is very healing for me. The studio and the experience of creating new music, it feels so much more like home to me than anywhere else."
Follow Emirates 24|7 on Google News.