Meghan Markle will find long distance romance 'hard'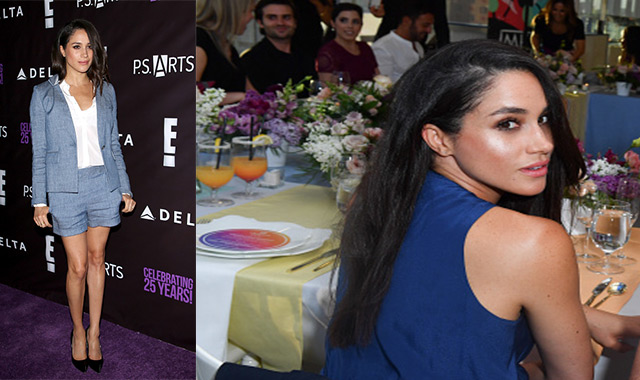 Meghan Markle is preparing for the next series of 'Suits' and sources say the brunette beauty will struggle to balance shooting with her long distance romance with Prince Harry.
The 35-year-old actress is currently back in her native Canada where she is preparing for the filming of the next instalment of the USA Network legal drama, in which she portrays paralegal Rachel Zane, and will once again be separated from the 32-year-old royal next month until November.
A 'Suits' insider told HELLO! magazine: "It will definitely be hard for her to do both 'Suits' and continue building her relationship with Harry."
It comes after reports that the brunette beauty is planning on quitting the show in favour of moving in with the flame-haired hunk.
So far, Meghan and Harry have had to endure a long distance relationship, but if she quits her role on the drama series she will be free to move in with her beau, who currently resides in Nottingham Cottage on the grounds of Kensington Palace in London.
Meanwhile, the loved-up couple may get a trial run of living together later this year as Harry is set to head off to Canada for the Invictus Games, and could stay with Meghan whilst he's there.
A source said recently: "Harry has a lot on his agenda over the coming months but will be very hands-on with organising the Invictus Games. He will be working with the local organising committee to ensure that everything goes smoothly. He's a huge fan of Toronto and has had nothing but support from everyone involved. Of course it will also give him a legitimate reason to spend more time with Meghan, he's truly smitten."
Harry and Megan initially kept details of their relationship under wraps but they're now willing to share it with the world after they were spotted walking hand-in-hand in London.
A source said: "An engagement is certainly one possible outcome ... They are really just enjoying spending time together."
It comes after it was claimed the pair have been pretty "inseparable" since the beginning of the year.
An insider shared: "They are really just enjoying spending time together ... It just feels very natural for them both. It feels easy - like they've known each other for a long time."
Follow Emirates 24|7 on Google News.