Mila Kunis' post-baby body; coy on Kutcher marriage rumours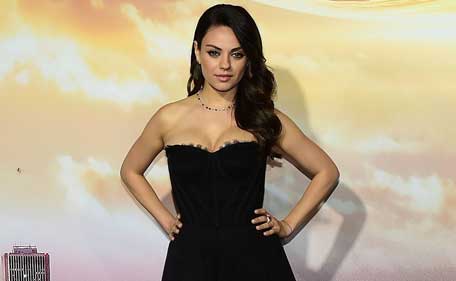 The 'Jupiter Ascending' star, who has four-month-old daughter Wyatt with fiancé Ashton Kutcher, admits 'nothing fits' her straight off the runway anymore.
The petite beauty stunned in a black Dolce & Gabbana cocktail dress at the Los Angeles premiere of her new movie on Monday night (02.02.15), but said: "Let me tell you, having a baby and breastfeeding - nothing fits in these dresses anymore. This is hard off a runway."
Los Angeles Premiere of the film 'Jupiter Ascending' in Hollywood. AFP
The 31-year-old actress currently has no new projects lined up and isn't sure how much maternity leave she will take.
Asked if she is ready to return to a film set, she told E! News: "I'm figuring it out."
Actor Channing Tatum and actress Mila Kunis pose on arrival for the Los Angeles Premiere of the film 'Jupiter Ascending'. AFP
Mila did all of her own stunt work in the new sci-fi film and claims it was more challenging than motherhood.
She said: "Hanging on a wire 17 hours a day for eight months gets exhausting. Hanging on a wire for 17 hours a day is way more exhausting because it's 17 hours, you don't sleep, you're bruised. You feel tired."
AFP
While she admits being a parent is tough as well, she added: "But you have a baby. You have a little being. There's nothing to have there, you're just killing yourself and you don't know what the final product is. Here, I have the final product in front of me."
The 31-year-old actress, who's been dating her former 'That 70s Show' co-star since 2012, remained coy while she was quizzed on her marital status, trying not be drawn on speculation she and the 36-year-old actor have tied the knot.
Actor Eddie Redmayne and actress Mila Kunis. AFP
During an appearance on 'The Ellen DeGeneres Show' on Tuesday (03.02.15), host Ellen cited a recent photograph - in which the couple wrote, 'Happy New Year, (heart symbol) the Kutchers' - and observed: "It says, 'The Kutchers', so it sounds like you're married."
However, Mila - who gave birth to their daughter Wyatt Isabelle in October last year - replied: "I don't know. We could just be a plural. My daughter has his last name legally."
Ellen persisted with the marriage-related questions, asking: "Why would it be such a secret if you were married?
AFP
"Are you still trying to stay on the market for men? It's a whole professional thing."
Mila responded with good humour, saying: "You got it figured out, Ellen."
Mila was more forthcoming about her baby, revealing Ashton bought her a gift as the little one weighed in at nine and half pounds when she was born.
The chat show host asked: "Did you get a really good push gift for that?"
Mila replied: "Yes I did. Yes I did.
"Because she was so big, she was like a hearty little thing; we skipped the newborn stage ... she's four months old and wears six-month clothing. Six to nine. She's a big girl ya'll."
Mila also praised Ashton's parenting skills, admitting he's responsible for changing diapers and is "an amazing dad".
She shared: "So his whole thing is changing diapers ... the second she was born he changed the first diaper.
"And has changed multiple diapers ever since. If he's home he changes the diaper. He became a master swaddler."
"He is an amazing dad. I wouldn't have done this by myself. He is 100 percent present."
Follow Emirates 24|7 on Google News.