Miley Cyrus twerks her way through Bangerz Tour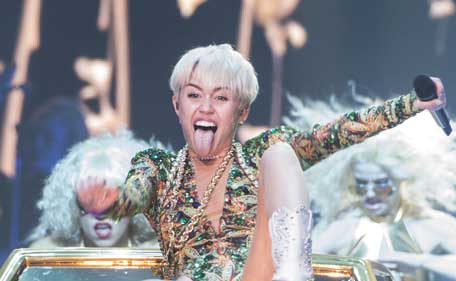 Parents, be warned!
Miley Cyrus appeared through a replica of her own mouth to open her Bangerz Tour in Canada and this tour may just be the raunchiest rock concert ever.
The 'We Can't Stop' star entered through an opening in a picture of her face and slid down a huge pink tongue extending to the stage on the opening night of the tour in Vancouver.
The controversial singer showed off plenty of raunchy dance moves including Twerking - the butt shaking dance she popularised last year - up against a giant blue teddy bear and other unmentionable acts.
The 'Party in the USA' hitmaker opened the show in a red studded two-piece, before changing into a leotard printed with marijuana leaves and wearing a golden cannabis leaf around her neck, which she paired with white cowboy boots.
She admitted her nerves before the performance, tweeting: "I don't know if it's Valentines Day or #BangerzTour but I'm most definitely having a panic attack."
However, she showed no signs of losing confidence as she sang tracks from her 'Bangerz' album including 'Love Money Party', '4X4', 'FU' and 'Adore You', surrounded by dancers dressed in many outrageous costumes including as the Statue of Liberty, Mount Rushmore and former president of the US, Bill Clinton.
"It was actually disturbing to see kids and parents clutching posters of Cyrus sporting an essentially coverless unitard or wearing T-shirts showing her doing things with herself in the mirror. There were also inflatable bananas on sale (we'll let you figure that one out yourself)," wrote the Vancouver Sun's Francois Marchand.
Sums up the critic, "The spectacle of the Bangerz tour is essentially a bad trip version of the Disney experience, a seedy underbelly version of what Disney really sells children."
The Vancouversun wrote: Miley Cyrus is like a cheap bonbon: A pop artist in a shiny, attention-grabbing wrapper. The candy itself tastes a lot like other cheap sweets found in the pop bin. But the exterior is so gaudy to look at you can't help but notice it standing out from the rest.
Despite giving such a visual performance, Miley has previously claimed it is all about her songs.
She said: "It is fun for people to walk out and be like 'Oh my god did she just do that?' and there's so much I love about shock value, but then I really want the core to be about the music."
Follow Emirates 24|7 on Google News.