Miranda Kerr gives birth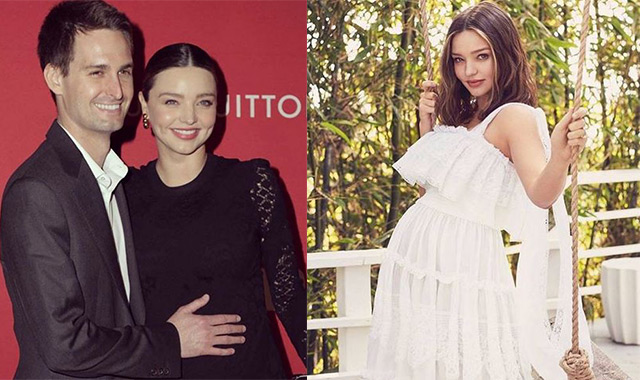 Miranda Kerr has given birth to a baby boy named Hart, marking her first child with Evan Spiegel and second child overall.
The 35-year-old model - who already has son Flynn, seven, with her former husband Orlando Bloom - has become a mother for the second time, after she and her husband Evan Spiegel welcomed their first child together, another baby boy, into the world this week.
According to TMZ.com, their tot, whom they have chosen to name Hart, was born on Monday night at around 11:50pm, but as of the time of writing, no other details about the new arrival are known.
Whilst Miranda and Evan are no doubt thrilled at the arrival of their son, one family member who definitely couldn't be happier is Flynn, whom Miranda previously stated was desperate for a sibling.
She said: "Evan and I had been together for a while, and [Flynn] was like, 'When are we going to have a baby brother or sister?' We were like, 'We've got to get married first.'
"The day after the wedding, he comes running in, and he's like, 'Mommy, is it in there?' I was like, 'Honey, give it a minute!'"
Meanwhile, Miranda admitted back in December that her most recent pregnancy has been more troublesome than was the case with Flynn.
She said: "I have been getting hormonal headaches, which I never got with Flynn.
"Apparently, my doctor said [with] the second pregnancy, your hormones kind of kick in a little stronger because they're like, 'Oh, yeah. I know what's happening. I know what to do.' So that's probably why."
Miranda and Evan, 27, tied the knot in an intimate ceremony in May last year after over two years of dating, and the former Victoria's Secret Angel revealed before they tied the knot that they weren't going to have sex until they were married because of the Snapchat founder's "traditional" views.
Speaking before they wed, she said:"I don't [use birth control]."
Asked if that means she is planning another child, she replied: "Not yet. Not until after we get married. My partner is very traditional.
"We can't ... I mean, we're just ... waiting."
Follow Emirates 24|7 on Google News.