Miss Universe 2014: Beauty with oomph but... [videos]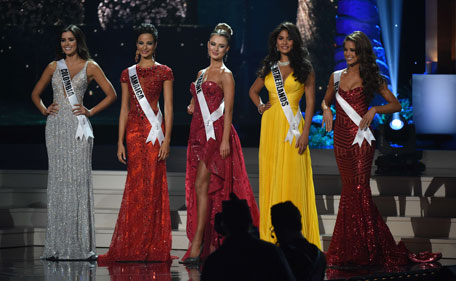 There are many things one can associate beauty pageants with - beauty (of course), glamour, love, world peace et cetera - but maybe not with brain (barring few exceptions).
If you do not agree with me, read on and know what the Miss Universe 2014 Top Five finalist replied in their Question and Answer round.
This might change your view.
Gavin DeGraw performs onstage during The 63rd Annual Miss Universe Pageant at Florida International University on January 25, 2015 in Miami, Florida. (AFP)
The final round of the competition was divided into two parts: First, the top 5 contestants from USA, Netherlands, Colombia, Jamaica and Ukraine had to answer questions given by a judge.
On the second part of the Q&A round, all five candidates had to answer one question posted by a netizen on the Miss Universe official Facebook page.
So brace yourself to hear the head-scratching answers (Twitter went into over-drive mode).
The first part:
Manny Pacquiao to Miss USA: If you were given 30 seconds to deliver a message to a global terrorist, what would you say?
Miss USA: As Miss USA I can only spread the message of hope, love, and peace.
Judge Giancarlo Stanton's question for Netherlands: What's the biggest change you'd like to see for young women in the next generation?
Miss Netherlands: I'm an ambassador for child prostitution. I want it to stop, so that's what I want for the next generation.
Miss Colombia Paulina Vega, Miss Ukraine Diana Harkusha and Miss USA Nia Sanchez onstage during The 63rd Annual Miss Universe Pageant at Florida International University on January 25, 2015 in Miami, Florida. (AFP)
Question for Ukraine Lisa Vanderpump: If you could remove the swimsuit competition from the Miss Universe pageant, would you? and why or why not?
Miss Ukraine: It depends on the situation. If it's gonna be nice, why not? I feel comfortable in any things, thank you.
Emilio Estefan's question for Jamaica: One of three women will experience violence in her lifetime. What can be done to get that number down?
Miss Jamaica: Crime is a global phenomenon, it does not affect just one nation and we as people of the world should work together to prevent it now.
Question from Rob Dyrdek to Colombia: Probably all the time, people have asked you, what can men learn from women, but I'd like to know what could women learn from men?
Miss Colombia: (her answer was unclear) I believe there are still man who believe in equality – and I believe that is what women should learn from men. We continue fighting for what we want to accomplish.
Final question from Facebook user Maria Navarro Fernandez:
"What is the greatest contribution of your country to the entire world?"
Miss USA Nia Sanchez said that her country always has wonderful 'influence on the world' and we can always help other countries if they need help and 'gives back' as much we can.
Miss Netherlands cited her country's art and history as the contributions of Netherlands to the world.
Miss Ukraine says her country is going through a very difficult situation and right now the very most important contribution is to direct all energies to support army and people.
Fennell cited legends Usain Bolt and Bob Marley as their country's contribution.
Lastly, Miss Colombia Paulina Vega said that the perseverance of the Colombian people amid problems is the offering of her country to the world.
Miss Colombia Paulina Vega is crowned Miss Universe 2014 during the 63rd Annual MISS UNIVERSE Pageant at Florida International University on January 25, 2015 in Miami, Florida. (AFP)
Finally, Miss Colombia Paulina Vega was crowned Miss Universe, beating out first runner-up Miss USA Nia Sanchez and contestants from more than 80 other countries.
Vega, a 22-year-old student of business administration, said she would wear the crown with 'pride and excitement' as she heard the news that fans in Colombia had taken to the streets to celebrate.
Follow Emirates 24|7 on Google News.