Movie review: Lebanon's 'Ghadi' is uplifting tale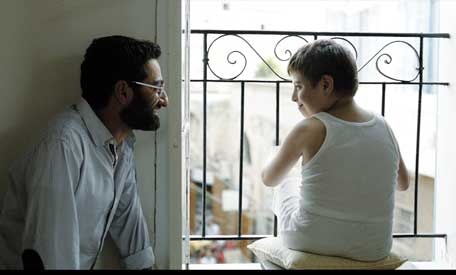 Dressed in plain white vest and shorts, young Ghadi spends the day sitting on a window sill, and patiently watches the world go by. Ever so often he lets out a shrill screech, much to the annoyance of his neighbours.
Soon, the boy is branded a nuisance, and the elders summon the father of the child, hurl abuses at him, and order him to lock his son away in an institution or leave the town altogether.
Unable to abandon his son or move out, and disturbed by how his neighbours are unwilling to accept his child's condition (Down's Syndrome), the father chalks out an outlandish plan that turns Ghadi's detractors into his followers.
Director Amin Dora's debut 'Ghadi' beautifully explores how a society flawed by intolerances and petty conflicts, can miraculously reform if guided by the right faith.
Written by Georges Khabbaz, who plays Ghadi's father Leba, the story employs humour to expose how indifferences can be overcome, if the heart is in the right place.
Although there are moments that may appear a little far-fetched, a questionable fantasy and characters who are shaded in one light, Dora manages to surface unscathed because of his incredible grasp over his craft.
Set in a fictional Lebanese town of Al Makkhal, Leba grows up loving and accepting his prodding, and often loud, neighbours. His early years were secluded but the arrival of a music teacher enabled him to overcome his stammer and lead a normal life. Even after the teacher left town, Leba continued to win over his people with his music.
Now, years later, Leba sets out to find his teacher, as he believes he holds the key to his happiness.
He finds the teacher, and seeks his help in ensuring his son finds the acceptance and love, that once eluded him.
Khabbaz weaves an interesting narrative that beautifully captures the triumphs and tribulations of a father, scarred by his own childhood, and determined to find his son a life of dignity and love.
He even creates a fractured but exciting world, where everyone's life is everyone's business, or how everyone's called Elias or a variant of it, or where boys are still preferred over girls.
Khabbaz steps in with a moving performance and lends charm and dignity to the troubled Leba. However, Lara Rain who plays Leba's dutiful wife Lara isn't fleshed adequately. Emmanuel Khairallah plays young Ghadi notably. The satire would've benefited had Khabbaz fleshed out the supporting cast, and layered it well.
Despite the minor flaws, Dora and Khabbaz succeed in creating a magnificently uplifting tale that forces us to abandon our prejudices and teaches us to be more tolerant towards other's troubles.
Also see: Movie Listings in UAE
Follow Emirates 24|7 on Google News.