National Geographic's "ONE STRANGE ROCK" premieres on March 24th hosted by Will Smith!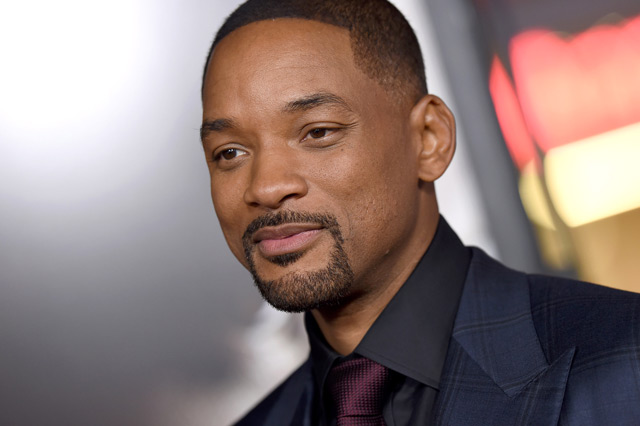 National Geographic, unearths the extraordinary story of our planet in ONE STRANGE ROCK. Beginning March 24, 2018 every Saturday at 9.50 pm UAE and 8.50 pm KSA, the 10-part cinematic event series, hosted by Academy Award®-nominated actor Will Smith ("Ali," "Pursuit of Happyness," "Men in Black I, II, III"), explores the fragility and wonder of planet Earth, a curiously calibrated speck of a planet in the harsh universe.

The series explores some of the questions many of us take for granted: Why is Earth the only planet (that we know) to support life? How fragile are the perfectly tuned systems that sustain this living planet? What are the greatest threats to the environment and human existence on Earth? Are we alone, and where did we come from? Is there really no place like home?

Smith contemplates these questions and guides viewers on a full-sensory, unprecedented exploration, bolstered by an elite group of eight astronauts who provide their unique perspectives and relate personal memoirs of the planet seen from a distance.

Commenting on the premiere, Sanjay Raina, General Manager, National Geographic Abu Dhabi, MENA and Senior Vice President, Fox Networks Group, said: "We are delighted to bring the much awaited ONE STRANGE ROCK to Middle East audiences in the same month as its global premiere. At National Geographic, our aim is to get viewers closer to stories that matter. With breathtaking cinematography, ONE STRANGE ROCK will be an incredible visual treat, taking audiences from the microscopic to the cosmic, leaving viewers with a true appreciation of our very own home…Earth."

"Using the best technologies in filmmaking, we always go further to captivate and entertain regional audiences through National Geographic's groundbreaking approach to storytelling, "Raina added.

"When you're in space 400 kilometers above our planet, you see the whole world in a totally new way," says former astronaut Nicole Stott. Adds former astronaut Leland Melvin, "And that new overview perspective of feeling extraordinarily linked to everyone and everything is the message we want to bring down to the planet."

Integrating the distinctive style of award-winning filmmaker Darren Aronofsky ("The Wrestler" "Black Swan," "Requiem for a Dream") and iconic storytelling of award-winning producer Jane Root ("America The Story of Us," "The 80s: The Decade That Made Us"), ONE STRANGE ROCK is a visual journey that alternates from the microscopic to the cosmic and reveals our planet through an alien lens.

"In ONE STRANGE ROCK, we're creating a visual bible by blending everything -- astronomy, anthropology, biology, chemistry and physics -- to reveal Earth from space as an incredible myriad of working systems," says Darren Aronofsky, who personally collaborated with European Space Agency (ESA) astronaut Paolo Nespoli to record exclusive footage with NASA record-setting astronaut Peggy Whitson during her mission on the International Space System.

"The series is nothing short of epic with filming across six continents and 45 countries," says Jane Root, CEO and Founder of Nutopia. "To get the ultimate big picture, both the narrative and our innovative camera technology transport viewers across little-known locations rife with cosmic and macro imagery and astonishing, extreme paradoxes."

Earth is a teeming bubble of life in the blackness of space made possible by the dynamic forces and twists of fate uncovered throughout the series. Each episode unpacks fascinating facts with themes that make us rethink what we know about the planet; for example, half of the world's life-supporting oxygen comes from single-celled phytoplankton, a hundred of which could fit on a pin head, and our cameras delve straight to the source. ONE STRANGE ROCK's title itself derives from the intricate, finely tuned, perfectly adjusting abilities of our planet to sustain life.

In order to tell this definitive story of our planet, ONE STRANGE ROCK has been in production for more than two years in 195 locations with 139 shoots, capturing footage equivalent to a 22-year movie marathon. Camera crews covered the gamut, including the following:

- Filming First and Special Access: The ONE STRANGE ROCK crews were the first non-natives to film Magha Puja festivities at Thailand's Wat Phra Dhammakaya Temple, and they received special access to shoot inside the Actun Tunichil Muknal Cave, home of the famous crystal maiden and a site where filming has been banned for years.
- High-speed Filming: The series captured massive speeds in space and on Earth, from filming an F15e Strike Eagle fighter jet trying to keep up with the shadow of the recent total eclipse. Production also shot in space at a max speed on the ISS of over 28,000 kilometres per hour.
- Plunging Depths and Ascending Great Heights: To truly understand the phenomenal planet in its entirety, cameras captured its polarities. Lechuguilla Cave, in New Mexico, is a jaw-dropping secret located 489 kilometres underground that unveils mysteries of Mother Earth; and on the ISS, at the other end of the spectrum at an orbit of 370-460 kilometres above Earth, astronauts unlock a perspective garnered only at this dizzying height.
- Smallest to Largest Lifeforms: Existence takes many forms, from microscopic cyanobacteria to the mammoth blue whale, which play vital roles in keeping our wondrous rock habitable.
- Extreme Locations: Production travelled to extremes, from one of the coldest places on Earth, Kangiqsujuaq, Canada, to the hottest place on the planet, the Danakil Depression in Ethiopia, finding some of the hardiest lifeforms anywhere on the planet. Then, zip southward to Kasanka, Zambia, where the largest mammal migration in the world begins, with experts explaining the remarkable role played by a huge colony of bats to support ecosystems with their guano dispersion.

Each hour-long episode explores the monumental events: genesis, cosmic violence, the cycle of life/death, human intelligence and alien life, sacrifice, oxygen, survival vs. destruction and how the planet has shaped life and life has shaped the planet. The astronauts guiding the journey through each episode are the following:

- Chris Hadfield – Former astronaut Hadfield is the first Canadian to command the International Space Station (ISS) and the only Canadian to ever have boarded the Russian Space Station Mir. Hadfield has left Earth three times and spent a total of 166 days in space.
- Jeff Hoffman – Logging 34.6 million kilometres in space, Brooklyn-born astrophysicist and former astronaut Hoffman has flown to space five times, one of which was the first mission to repair the Hubble Space Telescope.
- Mae Jemison – Former astronaut Jemison just celebrated the 25th anniversary of her mission to space aboard space shuttle Endeavour, making history as the first African-American woman to go to space.
- Jerry Linenger – Former astronaut Linenger, who survived the most severe fire ever aboard an orbiting spacecraft, spent nearly five months on the Russian space station Mir and logged 80.4 million kilometres on that mission alone.
- Mike Massimino – The first person to send a tweet from space, former astronaut Massimino flew on two space shuttle missions to repair the Hubble Space Telescope.
- Leland Melvin – The only person drafted into the NFL to have flown to space, former astronaut Melvin blasted off to space twice and logged more than 565 hours there.
- Nicole Stott – Known as the "Artistic Astronaut," former astronaut and aquanaut Stott, who became the first astronaut to paint in space, logged 104 days in space and nearly three weeks on Aquarius undersea habitat.
- Peggy Whitson – Astronaut Whitson just completed her third journey to space, setting a NASA record for the most cumulative days in space — 665.

"We astronauts have risked our lives to further our understanding of everything beyond ourselves to experience the world more clearly," explains Chris Hadfield regarding his missions in space and his hope for the series. "I really wish that everyone could see the world the way that I've had a chance to see it," says Chris Hadfield. "And now you can."
Follow Emirates 24|7 on Google News.