'Neerja' isn't 'Airlift': Sonam Kapoor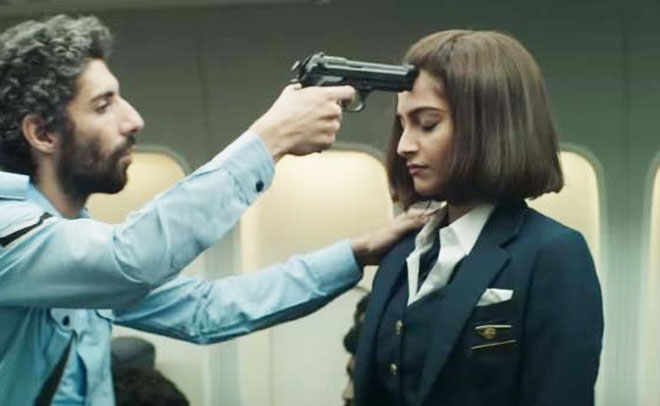 Ahead of its global release, Bollywood actress Sonam Kapoor's career looks ready for takeoff as she garners rave reviews from Indian film industry stalwarts for 'Neerja'.
While actor Hrithik Roshan praised Kapoor's 'incredible performance', saying that he could not recall the "last time I cried this much", director-producer Karan Johar called the film a 'must watch', adding that 'the brave biopic is new age in execution and has an old world warmth about it'.
Neerja Bhanot
For Kapoor, essaying the role of a real-life hero who sacrificed herself whilst saving the lives of passengers on that ill-fated flight nearly 30 years ago, 'Neerja' was no easy feat.
Speaking to 'Emirates 24|7' ahead of the biopic's release, Kapoor admitted she was nervous pulling off a character who the world looked up to as a 'brave, pure soul'.
She said: "I was very excited [when the role was offered], but there was also a level of trepidation, because it's a real-life character; a character of someone who's really pure, strong and at the same time, vulnerable.
"It's someone who was very ordinary, and at the same time she wasn't a Milkha who had a penchant for running or a boxer like Mary Kom. There was nothing dynamic about her.
"All there was, was an inherent soul that I had to capture. That itself was scary, as it was nuance I had to find. I didn't have to build muscles, or I didn't have to get trained. It was to capture the essence of someone."
Kapoor confessed she had to participate in acting workshops before the film, calling it 'very necessary', adding: "Acting is like any other talent. Whether a musician or a singer, you need to stretch your muscles."
History forgot Neerja
Neerja Bhanot was a purser on the ill-fated Pan Am Flight 73, which was hijacked on September 5, 1986 at Karachi Airport.
Bhanot was killed by terrorists while saving passengers on board, and posthumously, became the youngest recipient of India's highest peacetime military award for bravery, the Ashok Chakra.
The Indian national was also awarded a Special Courage award by the US, along with the Tamgha-e-Insaaniyat award by Pakistan for showing incredible human kindness.
Quiz Kapoor what her earlier memory of Bhanot has been and she said: "When I was in school, I think there was a mention of her in our history books, amongst heroes. But she kind of fades away from memory.
"It's really sad, as she is the youngest recipient of the Ashok Chakra and that's a really big deal. You are the youngest recipient of India's highest civilian honor for bravery and history forgot you.
"She received awards from three countries and history books forgot her."
Fact vs fiction
Kapoor stated the filmmakers choose to narrate her story, involving the braveheart's own family to support their project.
The actress further added: "I did speak to the family (before shooting). We didn't make the film without their approval. I spoke to Rama aunty [Bhanot's mother] and her brothers quite a bit.
"We had given them the script. We spent most of the money on the film's research."
In an era where marketing gimmicks are the name of the game in promoting a Bollywood project, it sounds a tad surprising that research was given such importance and investment.
Quiz Kapoor and she explained: "We did the research just so there wouldn't come a point where people are writing open letters, saying this isn't true or they are unhappy with what we have mad.
"Stories such as 'Neerja' or even 'Airlift' [Akshay Kumar's film on the evacuation of Indians from Kuwait during the Gulf War] need to be told."
But 'Airlift' also faced a lot of backlash from Indians who lived the harrowing evacuation, stating in the media that the Bollywood film was a piece of fabrication.
Kapoor didn't disagree, saying: "I liked 'Airlift' as a film but there were lot of liberties taken for the story. Which is great if you looked at the film as a story that spoke of human spirit. We didn't want just that with 'Neerja'. With our film, there is truth in every character. We have changed names. But that's it.
"Otherwise, everything else in the film is what happened on that plane."
Sanskriti Media and Entertainment
Emotional bond
Kapoor said playing Neerja was trying, but no more of an emotional attachment when compared to her other films.
"I get attached to a lot of my roles," she revealed. "It is difficult for me to disconnect myself until after a while. Neerja is one such role. But then so were Zoya ['Raanjhanaa', 2013] and Mili ['Khoobsurat', 2014]."
She continued: "In 'Neerja' though, there is one scene in particular that I most connected with, when Neerja is reading out a letter. That scene kind of affected me a lot.
"There are these accusations, from a person who is supposed to love me and accept me. I know in my head it is not okay for them to say stuff like that, but I feel hurt about. She is looking for acceptance from her parents. I think it is an emotion every child goes through."
Talking from personal experience, we ask?
"Obviously," pat comes the reply.
Ask Kapoor what's next after 'Neerja' and the actress said she wasn't so sure.
"It is a matter of trying to figure out what I'm trying to do with my life," she confessed, adding: "I get really bored. I need to challenge myself all the time.
"Right now, I'm thinking what I am going to sign. I am just sitting at home and I don't know what I am going to do. I just don't know. Unless I don't feel excited about something I don't do it."
The actress continued: "Since my first film, I've not made choices that conform to any formulas. I am really weird about things like that. When you don't conform and try to do your own thing, people look at you weird. Weird is good, I say.
"I don't use any formula. It's not about the roles, it's not about the stars or the script. It's what I feel at that point. I want to be happy when I go to work."
Follow Emirates 24|7 on Google News.