New season ahead for popular Bab El Hara?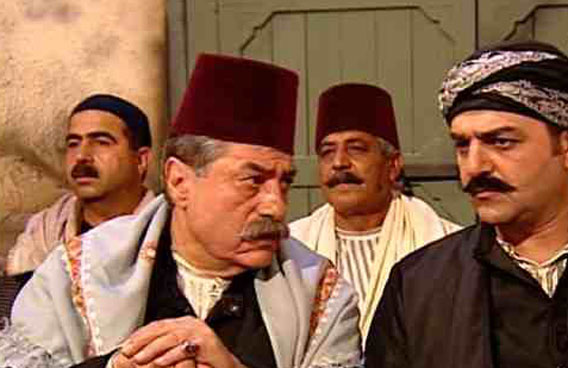 A popular Syrian drama that has received one of the highest viewing scores in Arab TV history came to an end last Ramadan but the series could now be revived depending on viewers and producers.
"Bab El Hara", broadcast for the past five years, is supposed to have ended with part five, which was shown last year, but a key character in the drama says a sixth part could still be shot this year.
Hassan Dakkak, better known for his role as Abu Bashir the baker on the show, said he did not mind to act again in part 6 but added shooting of this part depended on the co-producers - the Saudi-owned Middle East Broadcasting Corporation (MBC).
But in recent comments, its director said shooting of more episodes of this popular series would depend on public demand.
Although it has been rated as one of the most popular TV programmes in Arab drama history, viewers are now split on whether they want a part 6 or not. Some say they do not mind watch 20 parts while others believe the series has covered everything and it is time for its director and producers to embark on new work.
"I am ready to participate in 'Bab El-Hara' if there is part six...as an actor in this series from the beginning, I have not been out of 'Bab El-Hara'," Dakkak said in remarks to Gulf media this week.
"According to my information, there might be no part six but this could change due to the persistent demands by the public to shoot a new part..…so I will not rule out a sixth part if MBC decides to produce this part to meet the demands of the viewers."
While declining to confirm there will be a sixth part, Its director Moumen Al Mulla appeared to have left the door open for the shooting of a new part of the drama.
In recent comments published by MBC Net, Mulla said the shooting of part six depends on the public, adding that he received a letter that six million Palestinians want to see a sixth part of the drama.
"Shooting of part 6 depends on the audience, who has the final decision in this….when we shot part five, we had intended it to be the final episode so we can devote our efforts to another work," he said.
"But as you see, the talk in the street is growing and they want one more part…I have received a letter from some Palestinians in the occupied territories saying they can guarantee that six million Palestinians would vote for a sixth part."
"Bab El Hara" (The Neighbourhood Gate) has been shown in most Arab countries during Ramadan over the past five years. The series chronicles the daily happenings and family dramas in an old neighborhood in the Syrian capital Damascus in the inter-war period under French rule when the people yearned for independence.
The first four parts of the series were directed by Moumen's brother, Bassam Al Mullah, one of the best known Arab directors.
The first installment, comprising 31 episodes, was aired during Ramadan in 2006 and it enjoyed broad viewership in the region.
The second part was highly anticipated, receiving even wider acclaim in Ramadan of 2007. A third installment was aired in Ramadan of 2008 and it focused on the struggle against the French occupation and the post-marriage lives of the children of Abu Issam, the local doctor and barber. The fourth series was dedicated to the popular struggle against the French.
Part 5 gave extensive coverage to spy activities and religious tolerance as the producers of the series apparently wanted this installment to coincide with the arrests of a pro-Israel spy network in Lebanon last year and attempts to link Islam to terrorism.
"Bab El-Hara was one of the most enjoyable TV series I have ever seen…but I am not with shooting part six because the five parts have covered everything during those days and I don't think there will be anything new," said Nuhad Saeed, a Palestinian.
But that was not the opinion of another viewer, who said he is ready to watch 20 parts of Bab El-hara.
"I would love to see part six and seven and eight and 20!," said Imad Hariri, a Syrian expatriate in Abu Dhabi. "This is one of the best TV works I have ever come across as it showed us how nice life was in the past and how genuine people were at that time."
"Of course I hope they will shoot another part," said Mohammed Safadi, another Syrian expatriate. "You can't get fed up with such works as they depict the life of our ancestors."
Dakkak said Bassam Al Mulla has been busy shooting a similar Syrian TV drama, called Khan Al Shukr, adding that it could be broadcast during Ramadan this year.
"But if they decide to shoot a sixth part of Bab El-Hara, then I think it will be broadcast instead of Khan Al Shukr, which could be postponed to Ramadan next year…it now all depends on MBC and on whether the viewers want to see more of Bab El-Hara." 
Follow Emirates 24|7 on Google News.