No Nudity - Priyanka Chopra's 'Baywatch' rules (bikini?) [video]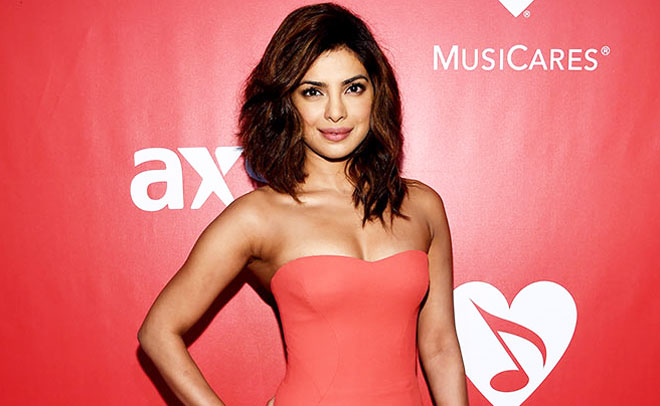 Priyanka Chopra is slaying the competition, even as the glittering dust has yet to settle on her Oscars-red carpet moment, and corresponding stage debut.
Scroll down for video
The Bollywood actress is now a global star, what with her TV show 'Quantico' winning her awards and accolades, even as she commences shooting for her big Hollywood debut, 'Baywatch'.
Yet, quiz the 33-year-old trailblazer and she is quick to acknowledge two simple things: that she is very good at her job; and she would never hesitate in turning down a role if it pushes her beyond her comfort zone.
Speaking at a press conference in Dubai virtually ahead of her big Oscar night, Chopra once again lay down the ground rules 24 hours before jetting into Miami to begin her work on 'Baywatch', with Dwayne Johnson and Zac Efron, even as her Bollywood drama 'Jai Gangaajal' hits UAE screens this Thursday.
"I stay up at night for India and I stay up at daytime for America," said a visibly tired Chopra. "But that's by choice. I love Hindi films too much, to not do them. However, I also love the fact that I am making a foray into something like this."
While Chopra plays FBI recruit Alex Parrish in her American TV show, the upcoming 'Jai Gangaajal' sees her essay small-town cop Abha Mathur in this gritty political crime drama.
However, for her Hollywood debut, an adaption of the hit TV show of the '90s, Chopra has decided to embrace the grey and play the arch-villain in 'Baywatch'.
Quiz her if she's nervous, and Chopra replies: "Of course there is anxiety before I approach a new role. Nobody has a 100 per cent track record. But I definitely have the confidence in relation to my job."
She continued: "I am blessed with roles and films that have not just written for me, but also have characters that are so multidimensional. It is great to be a female actor in entertainment today."
Although Chopra addresses she's an international star now, there are some lines that even she won't cross for the sake of a role.
"Nudity," she admits. "Anything with nudity I wouldn't do."
While Chopra appears to be firm in her stance, her enthusiasm for her big Hollywood debut is just an extension to her winning Oscar glory that saw her win hearts of fans and critics in her Zuhair Murad white dress.
Chopra presented the Oscar in the Best Film Editing category to 'Mad Max: Fury Road', along with Hollywood actor Liev Schreiber at the awards night, which took place at the Dolby Theatre on Sunday.
Her glory continued as her fans made her the second most searched celebrity according to Google Search Trends, second only to Leonardo DiCaprio in wake of the Academy Awards.
Speaking about her choice in dress, the actress told E! News she wanted "to be comfortable" in her gown, and the dress itself needed to be "something that lasts all evening - it's not ripping!"
She added: "Especially because I'm jumping right from the Oscars to the Vanity Fair party. Then, I go straight to the airport in my gown—[I'll] change in the airport bathroom, and take a red-eye to start Baywatch [Monday] morning."
While a 'Baywatch' is expected to hit cinemas next summer, her Bollywood film 'Jai Gangaajal' will release globally this Friday.
For her Hollywood and 'Quantico' co-stars, the actress has confessed they will be in for a private viewing of her Indian film in '10 days'.
Follow Emirates 24|7 on Google News.