'One and a Half Men'? How Sheen sitcom can go on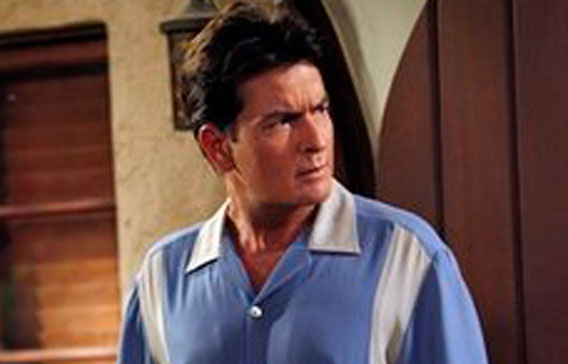 Charlie Sheen is gone, but his sitcom "Two and a Half Men" is likely to stick around.
Although the eight-year-old show is aging and revolved around Sheen's playboy character Charlie Harper, Warner Bros. Television and CBS have every incentive to try to keep it going after producers fired him on Monday.
The show, for one, is a huge moneymaker: It is the most popular comedy on the air, and in syndication. But the more important question might be whether viewers will buy a remade show next fall.
There are numerous examples of shows losing stars and plugging along with other actors, though not necessarily in the same roles. Just ask Dick Sargent, Jimmy Smits, Farrah Fawcett-Majors, Sandy Duncan and, yes, even Sheen.
In Sheen's case, he worked for two years on ABC's "Spin City," essentially replacing original star Michael J. Fox in 2000 when Parkinson's disease made it impossible for Fox to continue.
"NYPD Blue" continued for a decade with Smits after its original lead actor, David Caruso, decided he wanted to try movies.
Farrah Fawcett-Majors was television's biggest new star when she left "Charlie's Angels" in 1977, although she made guest appearances afterward. Ladd joined the cast the same year, with the show running another four seasons.
Duncan had a tough task in 1987: Replace Valerie Harper in "Valerie." It was eventually renamed "The Hogan Family" and went off the air in 1991. Suzanne Somers left "Three's Company" in 1981, and was replaced by Priscilla Barnes. The show ended in 1984.
Each of those new actors played different characters than the ones who left.
That wasn't the case with Sargent, who moved right in as "Bewitched" star Elizabeth Montgomery's husband Darrin Stephens when the original Darrin, Dick York, left in 1969. The show ended in 1972.
Even if "Two and a Half Men" returns, it's highly unlikely that there will be a new Charlie Harper. The hard-partying Sheen embodied the character; some suggested it was written with his real-life persona in mind.
Viewers wouldn't buy it, said Robert Thompson, director of the Bleier Center for Television and Popular Culture at Syracuse University.
"It would be like if your mother said, `The role of your father is now being played by so-and-so,' and not `I've left your father and here is my new guy,'" Thompson said.
What would be important is for the show to keep the same "`Odd Couple' plus a kid" dynamic embodied by the suave Harper, his nebbish brother portrayed by Jon Cryer and the Cryer character's son, he said.
Characters coming and going in major series are no longer unusual, particularly if the series stay on the air for a long time. When "ER" came to an end on NBC, it had a completely different cast than when it started. "Law & Order" rotated actors.
"Viewers expect that," said Tim Brooks, author of "The Complete Director to Prime Time Network and Cable TV Shows." "They don't expect shows to be static. People change over time. Relationships change over time."
Even the deaths of stars haven't stopped networks from keeping shows alive. "Chico and the Man" tried recasting when star Freddie Prinze committed suicide. And when John Ritter died of a heart ailment, ABC made the death of his character a central plot point in "8 Simple Rules."
For TV networks and producers, there's much less risk to keeping proven concepts alive than to hope audiences embrace something new.
And it's not as if "Two and a Half Men" has worn out its welcome. The Nielsen Co. said it was the highest-rated comedy on television last week, even though CBS aired a rerun because production on the show had stopped.
Warner Bros. and CBS already made an investment in the show's future: The cast is signed for next season. That included Sheen, until his firing.
Given all the attention paid to the story the past few months, there's almost certain to be a big interest in a recast show if it premieres next fall.
"If I were an agent trying to sell my client to the producers, I would be making the point about how stupid it would be to take all the cultural equity and interest in this show and not bring it back again," Thompson said.
CBS, in a quiet move overshadowed Monday by Sheen's firing, began protecting itself if the show does not come back. It made a deal to continue the Monday comedy "How I Met Your Mother," with all of its original actors, for two more years.
Executives at CBS and Warner Bros. had no public comments on "Two and a Half Men" and its future Tuesday.
Neither did Chuck Lorre, the show's executive producer and an increasingly powerful force with CBS as the creative mind behind "The Big Bang Theory" and "Mike & Molly." If Lorre wanted to continue "Two and a Half Men," CBS would have reason to keep him happy.
And there could be a pride factor at stake: Since Sheen has spent the past couple of weeks publicly deriding Lorre, the producer might be sorely tempted to show how he can continue without him. Lorre had no comment Tuesday, a spokeswoman said.
The Hollywood executives have some time. The real deadline for a decision comes in May, when the networks announce their fall schedules and begin selling advertising time.
Continuing the show would also help Warner Bros. extended lucrative syndication deals for the show's reruns. It's already the most popular sitcom in syndication, with 177 completed episodes.
Two hundred episodes was once considered a key number in syndication, because it would allow stations to air episodes five days a week for 40 weeks without any reruns, said Bill Carroll, an expert in the syndication market for Katz Media.
Although that number is less important now, another full season of episodes would allow Warner Bros. to extend two separate syndication deals by a total of 78 weeks, bringing in a significant amount of revenue, he said.
Sheen's fellow cast members haven't commented about the public drama involving their colleague - to the point where Sheen expressed disappointment in one of his interviews that he hadn't been receiving support.
Holland Taylor, the actress who plays Sheen's mother, said Tuesday that "in my experience, Charlie was cordial and polite with all of his castmates and crew, sometimes even courtly ... and always witty.
"We watched movies at his house occasionally - warm evenings with interesting, spirited conversation," Taylor said. "This is the guy I know. In this very sad and complicated time, I really have no comment, beyond valuing my own history with Charlie, and my abiding affection for him."
Follow Emirates 24|7 on Google News.