One Direction's Liam Payne confirms dating Cheryl with cozy picture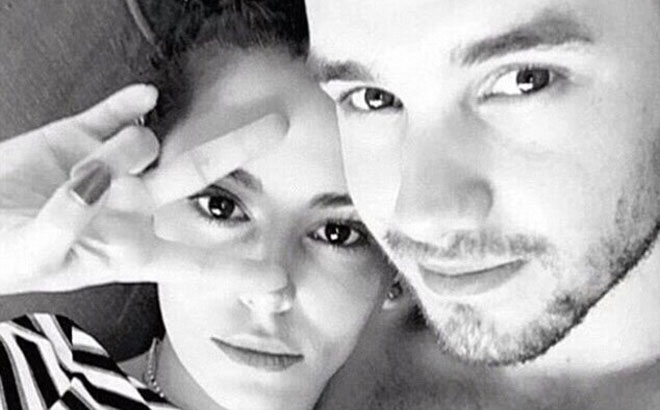 One Direction singer Liam Payne appears to have confirmed he is dating Cheryl Fernandez-Versini by posting a picture of them together on his Instagram account.
The singer, 22, changed his Instagram profile picture to a selfie of the pop duo lying down together in what looks like a bed or a sofa.
In the black and white image, Cheryl is seen gesturing a peace sign, while Liam stares into the camera lens.
Instagram/LiamPayne
The image seems to confirm widespread speculation that the duo have started dating, with reports suggesting they recently jetted off for a romantic holiday in the Maldives.
It's been reported that the duo have grown increasingly close since the start of the year, and things are said to have progressed rapidly over the last few weeks.
A source told the Sunday Mirror newspaper: "With Liam it's just completely relaxed. They've come from the same place and totally understand each other and the pressures each of them has, so there is no need to put on a front.
"Of course they have known each other for a long time, and always got on very well, but it was only in December that they began talking of getting together.
"It's early days and who knows exactly what will happen, but her family are happy for her and she's enjoying herself."
Valentine's getaway
The pop duo are said to have gone to extreme lengths in order to keep their burgeoning romance a secret, with Cheryl flying there via Kimberley Walsh's wedding in Barbados, while Liam traveled to the sun-drenched holiday destination from London.
A source said: "It was great for Liam and Cheryl to go on their first big holiday away together. The Maldives was the perfect spot as there was little chance of fans spotting them and it gave them a chance to spend time together.
"It was really hushed up and they went to great lengths not to be spotted when they flew in.
"Some of their closest friends didn't even know they had been away, let alone on holiday with each other.
"They had an amazing trip and it really made them believe they had something special together."
Although their relationship is still in its infancy, Cheryl, 32, and Liam, 22, are already said to be "loved up".
The insider told The Sun on Sunday newspaper: "Being able to completely unwind away from the world's eye is not something that a member of the biggest boyband of the world and one of the UK's biggest style icons get to do often.
"So they made the most of being in their stunning surroundings. It's early days but they are extremely loved up.
"They enjoyed it being just them but now they can be more open about it, they are excited to see where things go from here."
Cheryl Fernandez-Versini's ex wants 'apology'
The 32-year-old star's former spouse has taken to his Instagram account following the news that the 'X Factor' judge is reportedly dating One Direction hunk Liam Payne, 22, and was expecting someone to say they were "sorry".
On Saturday (27.02.16) Jean-Bernard, 35, posted an image of a lion along with the words: "I never knew how strong I was until I had to forgive someone who wasn't sorry and accept an apology I never received."
And his actions follow the news which broke on Friday (26.02.16) that Cheryl - who he wed in 2014 - has been in a secret relationship with the 'History' crooner who is 10 years her junior, for the past three months.
Cheryl, 32, recently filed for divorce from Jean-Bernard although the couple split in August, and last year, 22-year-old Liam and his girlfriend of two years, Sophia Smith, broke up.
Follow Emirates 24|7 on Google News.