Oprah Winfrey dismisses presidency rumours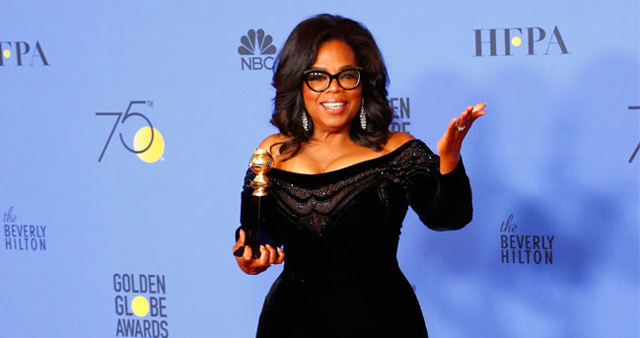 Oprah Winfrey says she doesn't have the "DNA" to run for President in 2020 after fans prompt her to run for office.
The 63-year-old star received a standing ovation for her powerful speech as she picked up the Cecil B. DeMille Lifetime Achievement honour at the Golden Globe awards, prompting many to urge her to run for office, but now she has weighed in on the discussions insisting she doesn't want to make a bid for the White House.
Speaking to InStyle, Oprah said: "I've always felt very secure and confident with myself in knowing what I could do and what I could not.
"And so it's not something that interests me. I don't have the DNA for it. I met with someone the other day who said that they would help me with a campaign. That's not for me."
Despite revealing she has no interest in running for presidency, fans have already started creating Oprah 2020 paraphernalia.
She said: "I actually saw a mug the other day ... I thought it was a cute mug. All you need is a mug and some campaign literature and a T-shirt."
The 'Selma' star's best friend, Gayle King, also keeps her updated on the public's continuous interest in her potentially running for office.
Oprah said: "Gayle - who knows me as well as I know myself practically - has been calling me regularly and texting me things, like a woman in the airport saying, 'When's Oprah going to run?' So Gayle sends me these things. And then she'll go, 'I know, I know, I know! It wouldn't be good for you - it would be good for everyone else.' "
Follow Emirates 24|7 on Google News.