Oscar Match-up: Pakistan's Sharmeen sashays past red-carpet diva Priyanka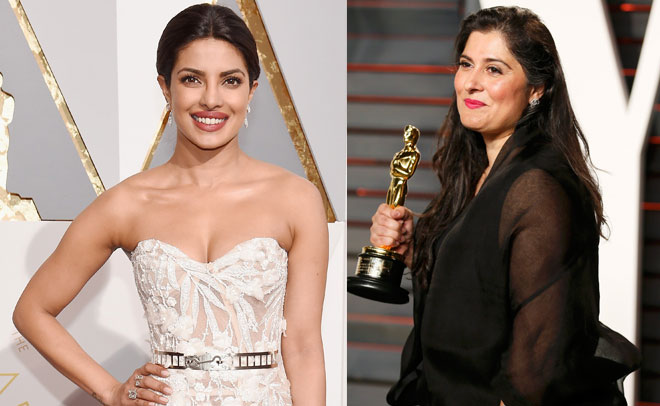 As media wars go, India might have the edge over Pakistan, depending on which side of Jammu & Kashmir you are living on.

Here, in the UAE however, Pakistan and India live harmoniously together – sharing joys and rubbing the 'loser's' nose in the dirt, metaphorically of course, when the chance does present itself (cue India vs Pakistan T20 Asia Cup cricket match).

Post 'Quantico' and pre 'Baywatch', Indian and the UAE media had all eyes on Priyanka Chopra at the Oscars – now a name well beyond Bollywood.
Filmmaker Sharmeen Obaid-Chinoy holds her award for Best Documentary (Short Subject) for the film 'A Girl in the River: The Price of Forgiveness'. (Reuters)
However, a day later it is Pakistani filmmaker Sharmeen Obaid-Chinoy, who is shining in her Osacr glory - she is the lady from the 'Subcontinent' who really took the headlines by storm; or should.
Her film 'A Girl in the River: The Price of Forgiveness' won the best documentary short award at the 88th Academy Awards and this is her second win, having previously bagged the trophy in the same category in 2011 for 'Saving Face'.
Priyanka Chopra poses as she arrives at the 88th Academy Awards in Hollywood, California. (Reuters)
Priyanka Chopra was a 'sheer' delight on the red carpet in her structured cage bustier mermaid dress. The Zuhair Murad gown was adorned with 3D flowers, dazzling with her 50-carat diamond earrings.
She was a vision in white even when she took the centrestage as a presenter.
But on a night where the only dazzle that matters is the golden statue, well that went into the hands of Pakistan's Sharmeen Obaid-Chinoy.
(Reuters)
As India vs Pakistan's competitions go, this particular match was won by Pakistan quite easily.
Indian stories like 'Life of Pi', 'Slumdog Millionaire' made their mark internationally, but an Oscar remains elusive for Indian filmmakers.
THE GIRL IN THE RIVER JUST WON AN #Oscars2016. SO PROUD OF @sharmeenochinoy @hayafatimaiqbal & TEAM for this. (1/2) pic.twitter.com/zcaZ0WZNlV

— Bilal Zubair Khan (@BilalZKhan) February 29, 2016
India has been submitting films for Oscars since 1957 and basking in the reflected glory - as Bhanu Athaiya won Best Costume Design for 'Gandhi' (non-Indian production) and AR Rahman, Gulzar won Best Original Song and Resul Pookutty picked up for Best Sound Mixing for 'Slumdog Millionaire' (again a non-Indian production)
Of course, the Academy of Motion Picture Arts and Sciences awarded great filmmaker Satyajit Ray with an Honorary Academy Award (1992) and Ray remains the only Indian, yet, to receive the honour.
Reuters
More and more Indians are now being seen as part of narrative of Hollywood films.
Actors like Aishwarya Rai Bachchan, Irrfan Khan, Anupam Kher and many others have been break-away Bollywood stars.
Recently, young actresses like Deepika Padukone, Nimrat Kaur and well, Priyanka Chopra, are making a mark in Western projects.
Reuters
Chopra is making her Hollywood debut in 'Baywatch' and Deepika will be seen opposite Vin Diesel in 'xXx: The Return of Xander Cage'.
Indian talents have won accolades worldwide but when will a made-in-India film win an Oscar?
Perhaps it's time to take lessons from Sharmeen Obaid-Chinoy and learn how she did it.
Follow Emirates 24|7 on Google News.