Oscar Nominations: Life Of Pi, Lincoln, Argo, Django... to fight it out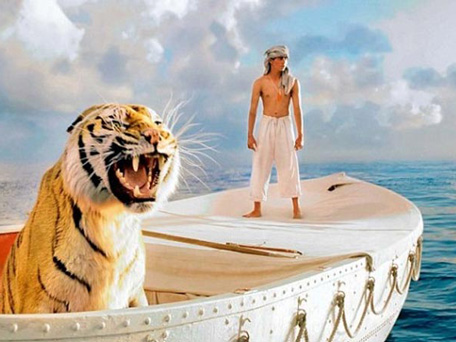 Steven Spielberg directed political biopic 'Lincoln' is leading the Oscar race this year with 12 nominations while Ang Lee- helmed Indian drama 'Life Of Pi' bagged 11 nods, including in the best picture and director categories.

The best picture category for the 85th Academy Awards is highly competitive this year with nine films fighting for the golden statuette.

'Life Of Pi', the survival story of an Indian boy lost in the ocean with a Bengal tiger will fight closely with political dramas like Spielberg's 'Lincoln', Ben Affleck's 'Argo', and Katheryn Bigelow's 'Zero Dark Thirty', a film on the manhunt for Osama bin Laden.

The other films in the race for best picture are David O Russell's comedy 'Silver Linings Playbook', Tom Hooper's musical 'Les Miserables', Michael Haneke's 'Amour', Quentin Tarantino's civil-war set western 'Django Unchained' and Benh Zeitlin's 'Beasts of the Southern Wild'.

Steven Spielberg's 'Lincoln' has won 12 nominations. Taiwanese-American film-maker Lee, who chose an entirely Indian cast for Pi and shot some scenes in India, is in the race for the best director trophy with Spielberg, Russell, Haneke and Zeitlin.

Pi, which starred Delhi-boy Suraj Sharma in the lead and noted actors such as Irrfan Khan, Tabu and Adil Hussain, also gained nominations in categories like cinematography, film editing, original score, orginal song (Pi's lullaby), production design, best adapted screenplay, visual effects, sound editing and sound mixing.

Daniel Day-Lewis is leading in the best actor category for his widely-praised portrayal of the 16th US President Abraham Lincoln in the Reliance-DreamWorks produced Lincoln. The film follows Lincoln's struggle to abolish slavery as the country goes for a civil war. The other contenders in the best actor category are Bradley Cooper for Silver Linings Playbook (also starring Indian actor Anupam Kher), Denzel Washington for Flight, Joaquin Phoenix for The Master and Hugh Jackman for Les Miserables.

85-year-old French actress Emmanuelle Riva is the oldest ever to be nominated in the best actress category. Riva plays a woman struggling with old age and death in Haneke's Amour. While the record for being the youngest-ever nominee in the same category goes to 8-year-old Quvenzhane Wallis for her role in Beasts of the Southern Wild. Jessica Chastain is also a strong contender for the best actress trophy this year for her role of a CIA agent in Zero Dark Thirty. She is facing competition from Silver Linings Playbook star Jennifer Lawrence and Naomi Watts from Tsunami drama The Impossible.

The supporting actor list is full of Oscar-winning actors such as Robert De Niro (Silver Linings Playbook) and Alan Arkin (Argo). The supporting actress category actors such as has Amy Adams (The Master), Sally Field (Lincoln), Anne Hathaway (Les Miserables). Carnatic music vocalist Bombay Jayashri is nominated in the original song category for "Pi's Lullaby" from Life Of Pi along with composer Michael Danna. British soul singer Adele has earned an Oscar nomination with her rendition of the theme song of Skyfall.
Follow Emirates 24|7 on Google News.