Oscars 2016: Best actor nominations [video]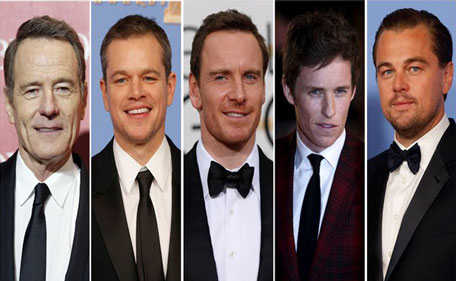 The Best Actor in Leading Role nominations for the Oscars 2016 are:
Bryan Cranston, 'Trumbo'
Matt Damon, 'The Martian'
Leonardo DiCaprio, 'The Revenant'
Michael Fassbender, 'Steve Jobs'
Eddie Redmayne, 'The Danish Girl'
DiCaprio, who earned his fifth Oscar acting nod for his portrayal of frontiersman Hugh Glass in 'The Revenant,' is widely seen as the favorite to take home his first Academy Award.
Bryan Cranston gets his first nomination at the Oscars this year.
Matt Damon who has earlier won the Academy gets his fourth nomination this year. He was previously nominated for 'Invictus' (2009) - nominee, actor in a supporting role; 'Good Will Hunting' (1997) - nominee, actor in a leading role and 'Good Will Hunting' for writing (Original) which he won eventually.
For Michael Fassbender, this is his second Academy Award nomination. He was previously nominated for '12 Years a Slave' (2013) in Supporting Role category.
Eddie Redmayne gets the Oscar nod for the second consecutive year in the leading actor category. He went on to win the statuette for 'The Theory of Everything' in 2014.
Follow Emirates 24|7 on Google News.