Oscars 2016: Best actress nominations [video]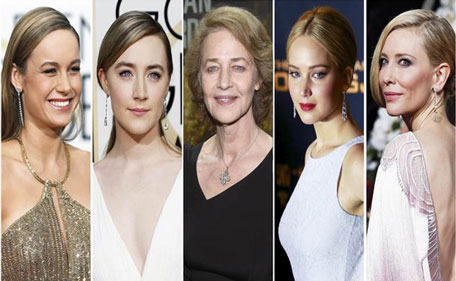 The nominations, announced at a pre-dawn ceremony in Beverly Hills organised by the Academy of Motion Picture Arts and Sciences, sent Hollywood's annual awards season into high gear.
The race is now on for the coveted Oscars, to be handed out on February 28 at a star-studded ceremony hosted by comedian Chris Rock.
For the second year in a row, no minorities were nominated in the acting categories, which prompted the hashtag #OscarsSoWhite - which first cropped up last year to criticize the lack of diversity - to trend on Twitter.
DiCaprio, who earned his fifth Oscar acting nod for his portrayal of frontiersman Hugh Glass in 'The Revenant,' is widely seen as the favorite to take home his first Academy Award.
But we are talking about the best actress in leading role nominations for the 2016 Oscars.
And the nominees are:
Cate Blanchett, 'Carol'
Brie Larson, 'Room'
Jennifer Lawrence, 'Joy'
Charlotte Rampling, '45 Years'
Saoirse Ronan, 'Brooklyn'
'Carol' star Cate Blanchett and 'Room' star Brie Larson, who portrayed a kidnapped mother living in captivity with her son, are seen as the favorites in a category that also includes veteran British actress Charlotte Rampling ('45 Years').
This is the seventh Academy Award nomination for Cate Blanchett. Previously she has taken home the trophy twice for 'Blue Jasmine' (2013) and 'The Aviator' (2004).
For Lawrence, this will be her fourth Academy Award nomination. She was previously nominated in the best actress in supporting role category for 'American Hustle' (2013), best actress in a leading role category for 'Winter's Bone'. She took home the statuette in 2012 for 'Silver Lining Playbook' (2012) for her leading role.
This is the second Academy Award nomination for Saoirse Ronan and first for both Charlotte Rampling and Brie Larson.
Follow Emirates 24|7 on Google News.