Oscars 2016: Critics pick who should win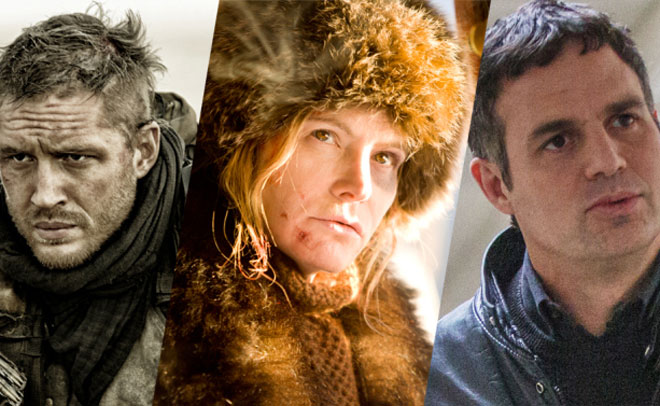 Oscar night is nearly upon us. Variety critics Justin Chang, Peter Debruge and Guy Lodge don't get ballots, but if they did, here's how they would vote in the top eight categories.
BEST PICTURE: 'Mad Max: Fury Road.'
Leave it to Hollywood to give its top three guild prizes to three completely different films — 'The Big Short,' 'Spotlight' and 'The Revenant' — and still manage to overlook the best of the lot. No matter: Long after the awards-season dust has settled, 'Mad Max: Fury Road' will loom ever larger as the year's crowning achievement, the sort of auteurist-populist triumph capable of restoring even the most jaded moviegoer's faith in the system. To watch George Miller's women-in-the-dunes masterwork is to believe once more in the resilient, resurgent possibilities of franchise fare; in the wisdom of giving someone big honking trucks, flame-throwing guitars and a massive budget to play with; and above all in the motion-picture medium itself, with its limitless capacity to terrify and astonish.
BEST DIRECTOR: George Miller, 'Mad Max: Fury Road'
He led his cast and crew into a bleak, unyielding wilderness and, after battling death-defying odds and endless production woes, emerged with a harrowing, almost wordless survival epic that confirmed his standing among our most feverish and uncompromising cinematic visionaries. That narrative is almost certain to earn 'The Revenant's' Alejandro G. Inarritu a second consecutive undeserved Oscar in this category, but it more rightly belongs to Miller, who gave us far more than just a master class in how to block, frame, shoot and edit action: While "Fury Road's" tour de force visual storytelling will rightly be studied in film schools for years, no simple lesson could convey the alchemy with which Miller spins B-movie thrills into the most ecstatic kind of pulp poetry.
BEST ACTOR: Michael Fassbender, 'Steve Jobs'
The coronation of Leonardo DiCaprio (who should have won for 'The Wolf of Wall Street') would be inevitable even if he had stronger competition — which is to say, if he were up against Michael B. Jordan's exceptional work in 'Creed,' as opposed to Bryan Cranston's ham-fisted Dalton Trumbo impersonation or Eddie Redmayne's simpering, fatally superficial embodiment of gender identity crisis. Effortlessly good as Matt Damon was in 'The Martian,' this should be Fassbender's to lose: Although far from obvious casting as Steve Jobs, he overcame that hurdle and then some with a verbally electric turn that captured this most iconic of American entrepreneurs in all his prickly edges and maddening contradictions — and then every so often let the icy facade drop to reveal a startling glimmer of soul.
BEST ACTRESS: Saoirse Ronan, 'Brooklyn'
There will be no complaints here when Brie Larson takes the prize for her anguished work in 'Room.' Still, if voters paid as much attention to the performances as they did to the outrage-stoking headlines, Charlotte Rampling would have had more of a shot for her finely chiseled meltdown in '45 Years' — and the odds would be shorter, too, on Ronan, who in 'Brooklyn' undergoes a transformation of no less exquisite, exacting subtlety. The ingenue who made such a striking impression nine years ago with her Oscar-nominated turn in 'Atonement' has become perhaps the most captivatingly watchful actor of her generation, that rare performer whose tremulous gaze seems to take in everything and give back even more in return.
BEST SUPPORTING ACTOR: Mark Ruffalo, 'Spotlight'
It's a testament to the level of acting in Tom McCarthy's superior newsroom drama that Ruffalo doesn't even give my favorite performance in it (that honor would go to Liev Schreiber). But there's a reason the hard-headed Boston Globe reporter Michael Rezendes lingers in our memory, and it has less to do with Ruffalo's Oscar-clip-ready shouting match with Michael Keaton than with a hundred fine-grained character details that immediately tell you who this man is and what he lives for. It's there in the live-wire energy with which he follows the court-sealed paper trail; his excited shout of "That's great!" when he learns the Globe is going head-to-head with the Church; and the forlorn despair in his eyes as he mourns the loss of his own irretrievable faith. I won't begrudge Sylvester Stallone anything he wins for 'Creed,' but I daresay it's Ruffalo who deserves to score the final knockout.
BEST SUPPORTING ACTRESS: Jennifer Jason Leigh, 'The Hateful Eight.'
Rooney Mara astonishes in 'Carol,' but she's about as supporting an actress in that movie as she was in 'The Girl With the Dragon Tattoo.' That makes Leigh an easy pick, though frankly I hesitate to diminish what she does in Quentin Tarantino's undervalued horror-Western by even calling it a performance: It feels more like an act of demonic possession, a descent into hellfire made flesh. By movie's end, this murderous frontier gangster has come to resemble a battered, blood-soaked cross between pre-exorcism Regan MacNeil and post-prom Carrie White, with a few flecks of Channing Tatum tartare for garnish. Misogynist? I'd buy that argument more if it weren't so clear that Tarantino loves Daisy Domergue to death — and Leigh repays his love with a ruthlessness that might give even Imperator Furiosa pause.
BEST ORIGINAL SCREENPLAY: Tom McCarthy and Josh Singer, 'Spotlight'
The sheer amount of research that went into this exceedingly dense and rigorous procedural is of a sort that generally earns its honors in the adapted screenplay category. Yet what distinguishes McCarthy and Singer's achievement — and qualifies it as genuinely original — isn't the accuracy of their blow-by-blow account of the Globe's investigation; it's the sheer storytelling verve with which they pull seemingly mundane details from an endless information stream and synthesize them into a pulsing, teeming human narrative. Bonus points, too, for fleshing out an urban panorama with such soulful economy: As a journalistic detective story and an anatomy of corruption, 'Spotlight' more than earns its claim to the mantle of "All the President's Men," but as an ode to Boston's battered resilience, it stands formidably alone.
BEST ADAPTED SCREENPLAY: Phyllis Nagy, 'Carol'
I'm tempted to choose Nick Hornby's work in 'Brooklyn,' the year's other great mid-century New York romance, but in the end it's Nagy's delicate sense of elision that wins me over. Aptly recognizing Patricia Highsmith's 'The Price of Salt' as a romance well ahead of its time, Nagy furthers the story's unassuming radicalism by placing it within the most classical framework imaginable — adding a narrative echo of "Brief Encounter" here, a whisper of Sirkian oppression there, and drawing out every lush, aching moment of its lovers' pas de deux, from its tentative first steps to its thrilling final movements. You could call it nostalgic, but nostalgia is never quite this clear-eyed: This is a love story that finds its consummation in a rapturous Old Hollywood spell.
Variety critics Peter Debruge has his list drawn out
BEST PICTURE: 'Spotlight'
Over the course of the last half-decade, the Academy effectively celebrated itself by awarding Oscars to 'The Artist,' 'Argo' and 'Birdman,' so perhaps it isn't so surprising to hear a journalist wanting to see them cast some love on my profession as well. Like 'All the President's Men' (which lost to 'Rocky'), 'Spotlight' honors a team of reporters who changed the course of history — in their case, exposing the Boston priest molestation scandal and sending reverberations through the Catholic Church worldwide. By contrast with the gratuitously nihilistic 'Mad Max: Fury Road' and likely winner "The Revenant," it's a movie with every reason to be cynical that chooses not to be.
BEST DIRECTOR: Tom McCarthy, 'Spotlight'
It stands to reason that my best picture choice would also earn my vote for director, though it would've been a tougher call had Ridley Scott been nominated. As with Alejandro G. Inarritu's far showier work on 'The Revenant,' 'The Martian' is simultaneously dramatically gripping and breathtaking to behold, although Scott (who has given us a career of spectacular moments that even "The Revenant" can't top) knows how to orchestrate awe in service of the material, as opposed to his own vainglory. Ultimately, it's the classicism and nuance of actor-turned-helmer Tom McCarthy, working in the Clint Eastwood mold, that impressed me most.
BEST ACTOR: Eddie Redmayne, 'The Danish Girl'
Whether it's Bryan Cranston chomping cigars or Leonardo DiCaprio chewing the scenery, there's a bit too much acting in this category for my taste. By contrast, I admire how Matt Damon (as 'The Martian's' unrelenting rocket man) and Michael Fassbender (as the equally driven 'Steve Jobs') humanized their larger-than-life roles. To the extent that the craft is about transformation, however, 'The Danish Girl' fascinates: In what feels almost like a meta-performance, we watch as Eddie Redmayne's character, en route to becoming one of the world's first transgender cases, studies and oh-so-stealthily assimilates the mannerisms of women around him.
BEST ACTRESS: Brie Larson, 'Room'
It's hard to believe that it has taken the Academy this long to nominate Charlotte Rampling, who must be due for a lifetime achievement honor for more than just '45 Years' or so of incredible work. Still, my vote goes to the category's relative newcomer, Larson, whose performance as a woman trapped under extraordinary circumstances gets to the very heart of what it means to be a mother. I don't expect this to be the last time we see her competing against Jennifer Lawrence, though I hope screenwriters are already scrambling to write parts deserving of each of them.
BEST SUPPORTING ACTOR: Mark Rylance, 'Bridge of Spies'
It feels strange to single out performances from either 'Spotlight' or 'The Big Short,' as both films depend so strongly on their entire ensembles (although I gather that Christian Bale played his hilariously buggy role without the benefit of his co-stars). Tom Hardy is ridiculously over-the-top in 'The Revenant' (that 'True Grit' accent alone should've disqualified him), while Sylvester Stallone merely reminds me of Michael B. Jordan's 'Creed' snub — all of which makes my decision easy: Of any actor nominated this year, Rylance impressed me most, humanizing a Soviet spy who, if arrested today, wouldn't stand a chance.
BEST SUPPORTING ACTRESS: Jennifer Jason Leigh, 'The Hateful Eight'
This is the toughest category, as I have no real favorite (not that I ever expected the Academy to nominate — much less even watch — Samantha Morton in 'The Harvest,' a scorcher performance on par with Kathy Bates Oscar-winning turn in 'Misery'). Still, I would've rather seen them recognize Alicia Vikander for 'Ex Machina' than for 'The Danish Girl,' while Leigh moved me more in 'Anomalisa' than in 'The Hateful Eight.' Let's give it to the latter: It may be the lesser of two roles, but you can practically taste the rattlesnake venom running through her veins as Daisy Domergue.
BEST ORIGINAL SCREENPLAY: Pete Docter, Meg LeFauve and Josh Cooley, 'Inside Out'
If only all 10 movies nominated in the writing categories were up for best picture! 'Inside Out' in particular deserves to have been recognized in Oscar's top category, and because it wasn't, I'm voting for it here. That said, my admiration runs deep for the scripts of both 'Bridge of Spies,' a fascinating historical footnote uncovered by Matt Charman that the Coen brothers helped give a classy Cold War spin, and the rigorous, research-intensive work Josh Singer and Tom McCarthy put into "Spotlight."
BEST ADAPTED SCREENPLAY: Drew Goddard, 'The Martian'
My problems with 'The Big Short' and 'Carol' originate with those two films' scripts (both come to the table with agendas beyond the scope of the books that inspired them), so scratch them. As indie adaptations go, I admire both 'Brooklyn' and 'Room,' but preferred the vitality of 'Me and Earl and the Dying Girl' and 'Diary of a Teenage Girl.' No matter, since Goddard took one of the geekiest books I've ever read and found a way to translate all that science-speak into an accessible and inspiring space thriller.
Variety critics Guy Lodge has his list of Oscar winners
BEST PICTURE: 'Mad Max: Fury Road.'
It may look, sound and move nothing whatsoever like stereotypical awards bait, but George Miller's petrol-scented madcap chase movie actually ticks every box that the Academy's ideal best picture winner should. It's both an accessible commercial entertainment and an utterly singular artistic statement, equally admired by the industry's so-called "steak-eater" professionals and the most epicurean of critics. Its victory would prove voters' openness to younger-skewing genre fare, while honoring the drive of a beloved 70-year-old veteran. It's a work of extraordinary detailed, tactile craftsmanship, yet has elemental storytelling muscle in spades. It honors the macho legacy of its 36-year-old franchise, while advocating gender parity that feels thrillingly ahead of current Hollywood politics. It's strange. It's sexy. It's beautiful. It's a fundamental blast. With due respect to even the best of "Fury Road's" rivals — and those that will presumably place ahead of it — this shouldn't be a contest.
BEST DIRECTOR: George Miller, 'Mad Max: Fury Road'
I could copy-and-paste everything I wrote above, but I'm not one of those who necessarily believes that the field's best film must also be its best-directed one. In the case of "Fury Road," however, it's awfully hard to argue for a split: The film is so comprehensively the deranged vision of its helmer, recklessly reimagining his own long-shelved narrative universe from the scorched earth upward, and producing quite the most formally stunning work of a distinguished career in the process. It's a marvelous thing when a director as technically and commercially practiced as Miller gets old enough not to give a damn about others' expectations of him. If Todd Haynes were in the race for his oppositely scaled but equally elaborate fashioning of "Carol," I'd hesitate over this category. As it is, an easy vote.
BEST ACTOR: Matt Damon, 'The Martian'
From one of the least formidable lineups in this category's history — featuring two performances I'd call actively misjudged, one that prioritizes brute labor over soul, and two fine turns that nonetheless don't approach either actor's best work — Michael Fassbender's cool-hothead take on "Steve Jobs" reps the most artful option, though he was more viscerally compelling this year in "Macbeth." Instead, it's Damon's limber, sporting shouldering of "The Martian" that gets my vote, for probing the hairline cracks of one of Hollywood's most solidly built star personae. Playing a man forced to live not just by his wits but his wit, Damon must project both his signature geniality and the internally setting frost of mortal panic that works against it. That's harder than it looks, which is Damon's general modus operandi; as opposed to Leonardo DiCaprio, whose campaign hinges on his work being every bit as hard as it looks. Which man is winning an Oscar on Sunday? Go figure.
BEST ACTRESS: Charlotte Rampling, '45 Years'
From an acting category that's pretty embarrassing to one that's an embarrassment of riches: Even my fifth-place nominee here (frontrunner Brie Larson, probably, and she's still excellent) would place ahead of my best actor winner on a unisex ballot. Yet even in a such a high-class field, this is an easy call for me. The mesmerizing star of my favorite film of 2015, Rampling etches a near-lifetime of affection and simultaneous disaffection into even the subtlest gestures: a short intake of breath here, a twitch of the eyelid there, and in the final scene of Andrew Haigh's exquisite marital study, a gut-twisting jerk of the arm that rewrites an entire relationship without a word. Rampling wasn't even nominated 15 years ago for this measure of devastating economy in "Under the Sand." We thought the Academy had missed the chance to recognize a career-crowning performance. We were wrong.
BEST SUPPORTING ACTOR: Mark Ruffalo, 'Spotlight'
I admit that this is another category, like its leading counterpart, where I'm less than enamored of my options: Four consistently remarkable actors who have been more electric in other things, and one long-slumming comeback "kid" who may never have been better. Sentimental logic should steer me to the latter option, and I did consider a Sylvester Stallone vote. But I might just prefer the human crinkles and creases of Ruffalo's performance, notwithstanding its occasional tic-tic-tic indulgences: I was moved by the restless, repeated ricochet between idealism and exasperation that he navigates in journalist Michael Rezendes, and impressed by the room he finds for his own distinct thespian rhythms in a performance that I'm otherwise told is a pretty diligent impression of its real-life subject. Ruffalo's become one of those invaluable character actors who is assuredly himself even as he assumes the form of just about anyone else; I'd have voted for him last year, too.
BEST SUPPORTING ACTRESS: Rachel McAdams, 'Spotlight'
Okay, this was a tricky one. I believe Rooney Mara gives, by several country miles, the most affecting, expressive and technically immaculate performance in this category. But by no stretch of the imagination is it a supporting turn: As the principal eyes, ears and heart of "Carol," Mara has a scale of canvas to paint on that secondary characters simply can't match, and to capitulate to the studio's dishonest strategy is simply unfair. (Ditto another leading lady in the field, "The Danish Girl's" Alicia Vikander.) Which actress, then, did the most for her film from the sidelines? In this field, I'd say McAdams, whose tacit empathy, focus and listening skills assist — support, even — some of the most riveting thespian exchanges in Tom McCarthy's well-knitted ensemble piece. Written off as a "coattail nominee" by some, she does exactly the kind of smart, selfless acting at the edges that this category was made for.
BEST ORIGINAL SCREENPLAY: Alex Garland, 'Ex Machina'
Released way back at the beginning of 2015 in its home country, and then largely written off as an awards player, Garland's sleekly arresting directorial debut threatened to become the greatest sleeper of awards season when it scored a surprise Producers Guild nod. The Academy didn't go that far, but if they were going to recognize this lithe, slippery sci-fi fable in any one category, I'm glad it was this one. The elegant architecture of Garland's storytelling exceeds even that of his film's gorgeous production design: The clean lines of its high concept support numerous crossing angles of social and sexual inquiry, as it joins Spike Jonze's 'Her' and Jonathan Glazer's "Under the Skin" in the recent canon of futuristic fantasy films that essay just what it means to be a woman, or indeed a human, in the present day.
BEST ADAPTED SCREENPLAY: Phyllis Nagy, 'Carol'
Todd Haynes' rapturous girl-meet-girl-meet-herself love story is sure to leave the 2015 Oscar season as its most under-rewarded future classic, its head held proudly high by one of Sandy Powell's pristinely starched collars. Academy voters may not quite have jived to the crystalline delicacy of Haynes' vision, but at least the writers couldn't fail to notice what an immaculate foundation Nagy gave him to work on: Beautifully distilling the razor-edged refinement of Patricia Highsmith's novel, while finding consistently deft, structurally acute ways to un-speak its interior descriptions, it's an adaptation as perfectly, poignantly decluttered as its likely Oscar-night vanquisher, 'The Big Short,' is ambitiously overstuffed. All that, and it turned a casually Highsmithian turn of phrase — 'flung out of space' — into one of the most swoonsome lines in cinema history.
Follow Emirates 24|7 on Google News.