Oscars 2016: Priyanka Chopra scoop - from dress details to DiCaprio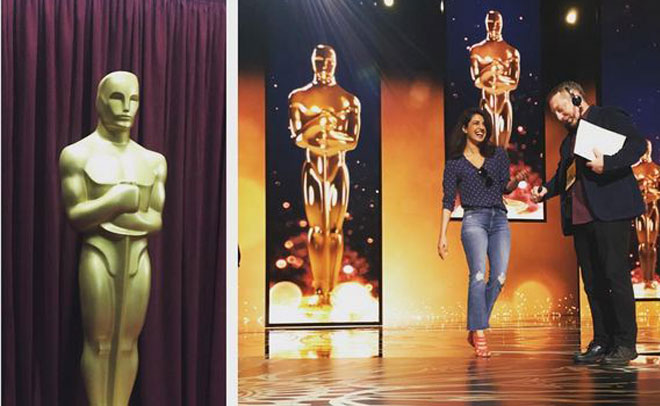 As Bollywood's Priyanka Chopra prepares to become one of a handful of Indian celebrities to present an Oscar at Hollywood's biggest awards night on Sunday, the actress spills the beans on her big moment in the spotlight in Skype chat with select media from Dubai.
The 'Quantico' star is currently in Los Angeles where she will be presenting an award at the glittering 88th Academy Award ceremony tomorrow, with her co-presenters including Hollywood elite Reese Witherspoon, Julianne Moore, Jared Leto, Steve Carell, among others.
From debating over 'the dress' to her fangirl moment in seeing Leonardo DiCaprio take home his first Oscar, Chopra shares her Academy Awards insights:
The center stage at the Kodak Theatre. (Instagram/PriyankaChopra)
The Dress
A lot has been speculated on, with India's top designers and fashion houses even weighing in on what Chopra should wear on the big night.
Quiz her about the dress she has finally opted for, and Chopra shockingly reveals, no selection has been made yet.
She says: "I have a bunch of options. When I wake up tomorrow, I will see what I am feeling."
Probe a little further and she does reveal her favouite colour for the red carpet.
She adds: "I am rearing towards white as of now."
There is media speculation that Chopra may choose to embrace her Indian ethnicity and weave that into her final choice. All shall be revealed in a few hours though.
Priyanka Chopra. (Instagram)
Preparing for the night
The actress has been busy with her prep work for the mega Hollywood event, with a rehearsal session to the big night, followed by a pampering session at the spa that have been well documented on her Instagram account.
Ask her and Chopra laughs it off saying: "It's 12.30am here; I am not preparing at all for the night. I stay up at night for India and I stay up at daytime for America."
The diversity debate
The Oscar diversity debate has led to enough fodder to fill in column inches and make headlines around the world, with several of Hollywood's A-listers even going so far as boycotting the event.
Does Chopra think her inclusion as one of the presenters of the night puts an end to the controversy?
"It is a start," she says, adding: "But its not the end of the debate for sure. That is a pretty big conversation that needs to be had.
"Diversity is a pretty important part of entertainment. Because globally, entertainment has turned into such a small place. People from all over the world are now a part of it.
"It's a step in the right direction though."
Her Oscar favourite?
With some of the biggest films of 2015 contending for the golden statue on Sunday, Chopra agrees it's a tough choice out there.
"There are a lot of amazing films," she says. "My favourite was 'Spotlight'. Then there was 'The Danish Girl'. And I also loved 'The Big Short'.
"I want to see which film will take the Best Picture prize. It will be a fun evening."
Is it Leonardo DiCaprio for the win?
"Of course, it will be fun to see if Leo will get his first Oscar," she gushed.
DiCaprio is a five time Oscar nominee, but has yet to take home the golden statue even once.
However, the Hollywood actor is the front runner at this year's Academy Awards.
Red carpet diva
Chopra, who is also awaiting the release of her upcoming 'Jai Gangaajal' next month spoke about her gritty role of female cop Abha Mathur and how different it was from her US TV show 'Quantico's' Alex Parrish.
"Abha plays by the rules, while Alex breaks them," she admitted.
But quiz her, which was the real Chopra, either of the two roles she plays or the diva we will see on the Oscar red carpet, and she says: "Probably the one you see on the red carpet. I can't relate to the other characters I play because I'm creating different people.
"Probably what you see on the red carpet is the real me."
Emirates 24|7 will bring you the 'live' updates.
For UAE viewers who want to catch the Oscar ceremony live, you can tune into OSN Premiere Movies HD, with the red carpet ceremony telecast tomorrow morning from 2am, with the event commencing at 4am local time.
A repeat telecast will be shown at 9pm tomorrow, UAE time.
Follow Emirates 24|7 on Google News.