Pakistan, India's filmy drama; Akshay Kumar's 'Baby' banned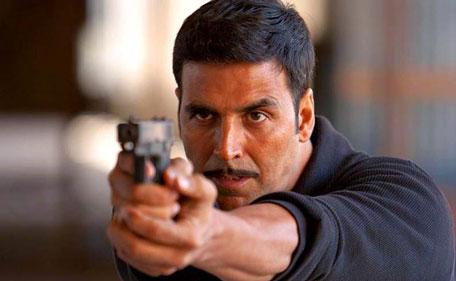 Bollywood actor Akshay Kumar's spy thriller 'Baby' has been banned by the Pakistan censor board, for allegedly portraying religion in a negative light.
All CDs and DVDs of the film have also been banned in Islamabad.
A representative of the film's distributor, Everready Pictures informed the Dawn newspaper that the film has been banned in Pakistan.
Although, the film was set to release on January 23 across Pakistan, cinemas in Karachi had removed it from their websites leading to speculations about its imminent screening.
The film stars famed Pakistani TV drama actor Mikaal Zulfiqar as well as Rasheed Naz, who played the villainous cleric in Shoaib Mansoor's 'Khuda Ke Liye'.
'Baby' also stars Rana Daggubati, Danny Denzongpa and Taapsee Pannu and was released in UAE on Thursday (Jan 22).
Akshay Kumar, in defense of his film, claimed that 'Baby' is not made to target any particular religion or community.
Earlier, director Neeray Pandey was quoted as saying that the film was not anti-Pakistan or anti-Islam.
While some claim that there has been a deliberate attempt at mentioning Ajmal Kasab in a particular scene, others have also protested against the usage of Muslim names like Taufique, Jamal, Bilal to show terrorists in the film.
Pakistan, India's filmy drama:
While a complete entertainer from both sides of the border reap good dividend at the box officec, the real drama unfolds when volatile border issues, rocky political relationship and terrorism is highlighted in their movies.
It opens up wounds both nations wants to sideline.
In the past, Pakistan's censor board banned Salman Khan's 'Ek Tha Tiger' that featured an Inter-Services Intelligence (ISI) agent.
In 2013, a film based on an Indian operation to capture a fictional mafia don given asylum in Pakistan riled Pakistan's censor board. The villain in 'D-Day' was loosely based on real-life gangster Dawood Ibrahim, who India says is harboured by Pakistan.
Pakistani films also face the same fate in India. Bilal Lashari's 'Waar' depicts Pakistan's rocky relationship with its neighbouring nation.
The movie was not distributed in India.
Even in Pakistan itself, 'Waar' was denounced by some liberals wary of what they see as fiery nationalistic rhetoric and scenes demonising India.
Soap transition:
But the same cannot be said about popular Pakistani television soaps.
Zindagi channel has offered a refreshing change to Indian television viewers by giving daily dose of Pakistani shows.
The channel that kick started with four hit Pakistani shows has ably served a distinct taste to the Indian audience.
These shows have opened a window to the Pakistani milieu that was so far unexplored in India.
'Zindagi Gulzar Hai', 'Aunn Zara', 'Noorpur Ki Rani', 'Kash Main Teri Beti Na Hoti', 'Kitni Girhain Baki Hain' and 'Maat' are some of the shows that have floored the audience with its unique narrative, crisp storyline and elegant Urdu dialect.
Popular Pakistani actors such as Fawad Khan, Sanam Saeed, Maya Ali, Fatima Effendi, Sanam Baloch and Osman Khalid Butt among others have instantly grabbed popularity in India.
Inspite of decades of political conflict between India and Pakistan, Pakistani actors are making it big in Bollywood.
Having fought three wars since independence from the British in 1947, for both countries certain films serves as a grim reminder of tensions between them.
India and Pakistan trade accusations of staging cross-border attacks and supporting militants in the disputed region of Kashmir, where violence has seen resurgence in recent months.
Follow Emirates 24|7 on Google News.