Paris Jackson claims father Michael Jackson was murdered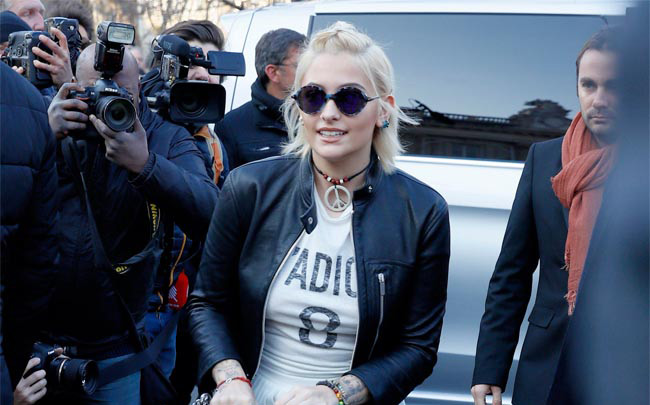 Paris Jackson has claimed her father Michael Jackson was murdered and she is planning to eventually find "justice" for the late pop legend.
The 18-year-old aspiring actress was raised along with her two brothers Prince, 19, and Blanket, 14, solely by the late pop legend until his death in June 2009, which was ruled as an overdose from acute Propofol intoxication.
However, she has admitted for the first time that she believes it was not an overdose of the drug, which was administered by Dr Conrad Murray - who was convicted in 2011 of involuntary manslaughter for his part in the star's death - that caused his demise and that she has always thought his death was a "setup" as it was "obvious" people wanted her 'Thriller' hitmaker father dead.
Paris opened up in a candid interview with the new issue of Rolling Stone magazine, saying: "it's obvious.
"All arrows point to that. It sounds like a total conspiracy theory and it sounds like bull****, but all real fans and everybody in the family knows it. It was a setup. it was bull****."
The blonde beauty has also revealed she is planning to seek revenge and find "justice" for Michael, but she is not ready to disclose her plans just yet.
She added: "Of course [I want justice].
"I definitely do, but it's a chess game. And I am trying to play the chess game the right way.
"And that's all I can say about that right now."
Paris also shared how the 'Bad' singer once felt paranoid that someone was trying to kill him.
She said: "And at some point he was like, 'They're gonna kill me one day.'"
Meanwhile, Conrad recently said he felt Michael's children were "brainwashed" and "trained" to hate him.
The 63-year-old physician penned a book called 'This Is It! The Secret lives of Dr. Conrad Murray and Michael Jackson', which was slammed by Paris, who tweeted when it was released: "The fact that people are actually listening to and believing a cold blooded murderer is honestly beyond me."
And speaking about Paris, he said at the time: "[Paris] is a child. She's a young adult. She's been tainted. They've trained her to be dishonest. I'm not responsible for that."
Follow Emirates 24|7 on Google News.