Pink's mini-me makeup artist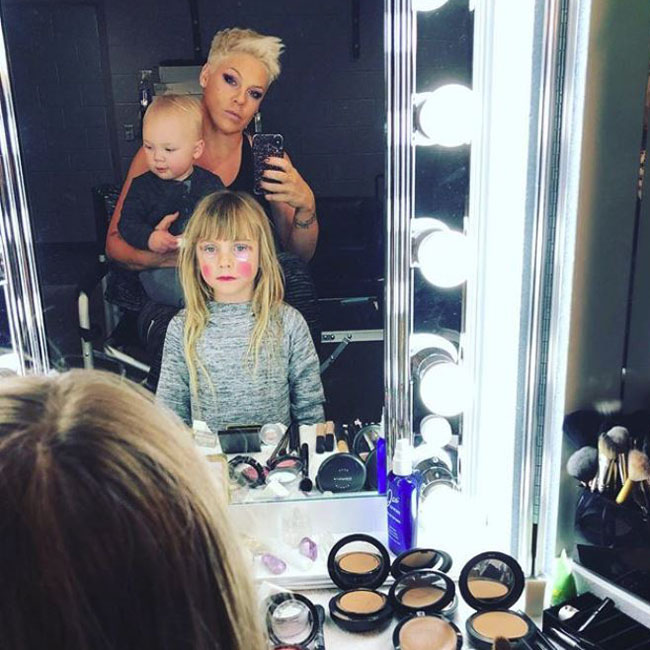 Pink's daughter Willow has posted an adorable makeup 'tutorial' on Instagram of herself raiding her pop star mother's makeup backstage.
The 38-year-old singer shared the adorable sped-up clip of six-year-old Willow backstage rummaging through the 'What About Us' singer's professional cosmetic bag and applying products to her face.
The mini makeup tutorial was recorded on Pink's smartphone and the pop superstar shared it on Instagram on Willow's behalf to her 4.1 million followers.
Pink captioned the Instagram video: "My little girl and her first makeup tutorial #backstage #rockstarintraining #likemamalikedaughter [sic]"
And Willow's father Carey Hart - who has been married to Pink since 2006, with whom he also has 15-month-old son Jameson with - posted her finished look on his Instagram page as the whole family were in Mississippi for Pink's American Beautiful Trauma World Tour.
He captioned his image: "Willz make up for the St. Louis show [sic]"
Pink has been open about how she chooses to raise Willow, making sure her daughter grows up to be proud of her differences and be "true to herself".
She previously said: "Another very important thing I tell my daughter is it's very fun to be weird and it's very boring to be normal. I have a rule with Willow that we don't say mean things and we don't say things we don't mean.
"I want her to speak her truth and I want her to practice it now with me so that she can be good at it later, I think one of the most helpful things to remember in life is to be true to herself."
And when Pink collected her Michael Jackson Video Vanguard Award at the 2017 MTV VMAs, she used her speech to reveal a moment of insecurity her daughter Willow had about her looks and used that experience to tell the audience and TV viewers to be proud of who they are.
Speaking about how Willow was worried she "looked like a boy", Pink shared: "And I said to her, 'Do you see me growing my hair?' She said, 'No, mama.' I said, 'Do you see me changing my body?' 'No, mama.' 'Do you see me changing the way I present myself to the world?' 'No, mama.' 'Do you see me selling out arenas all over the world?' 'Yes, Mama.' 'OK! So, baby girl. We don't change. We take the gravel and the shell and we make a pearl. And we help other people to change so they can see more kinds of beauty.'"
Follow Emirates 24|7 on Google News.