Pregnant Kardashian won't take heels off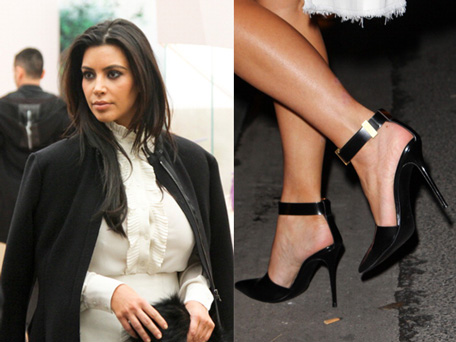 On December 30 Kanye West announced that reality star Kim Kardashian is pregnant with their first child.
Recently Kim, 32, was enjoying a shopping spree with babydaddy Kanye West in Paris.
The pair are on a romantic break - and nipped out for an exclusive look round the city's Balenciaga store.
Looking elegant - if a little chilly - in a short A-line skirt and black heels, Kim browsed through racks of designer threads and colourful heels.
The brunette beauty - believed to be three months' pregnant - warded off the cold by holding a black fur clutch and draping a black overcoat over her shoulders.
Kim Kardashian and Kanye West are expecting their first baby together, the rapper told his many fans at the Revel in Atlantic City on Dec. 30!
Kanye reportedly told the audience at his Atlantic City concert to "stop the music and make noise for my baby mama," referring to Kim, 32 who was in the audience

Reportedly pregnant Kim is already having morning sickness. Kim has made it very clear on 'Keeping Up With The Kardashians' that she was eager to have kids and would undergo fertility treatments if need be. We're not sure how she got pregnant, but we're certainly happy she did!
Kim maybe getting heavy due to pregnancy but the reality star is not ready to take off her heels.
Kim, 32, and 35-year-old Kanye spent the festive period together and were seen with the 'Keeping Up with the Kardashians' star's family watching her brother-in-law Lamar Odom playing basketball for the Los Angeles Clippers on Christmas Day (25.12.12).

However, they left at half time with Kim later tweeting she felt "unwell".

She added: "In bed with the flu all day. Praying this goes away fast!"
Singer Kanye West and Kim Kardashian are seen on January 11, 2013, at the 'BALANCIAGA' store in Paris, France. (Getty)

Follow Emirates 24|7 on Google News.