Pregnant Keira Knightley blooms; Jennifer Aniston's extreme plunge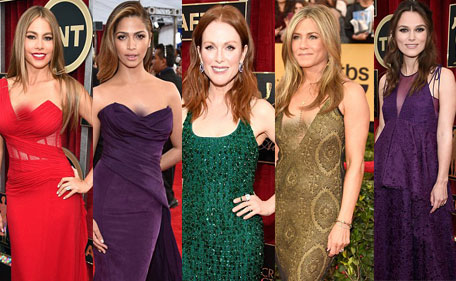 George Clooney thinks awards shows are 'not fair' to women because they face more pressure over their outfits (than nominations we suppose).
Talk to my hand!
Actors Joe Mangeniello and Sofia Vergara arrive for the 21st Annual Screen Actors Guild Awards, January 25, 2015 at the Shrine Auditorium in Los Angeles, California. (AFP)
Who doesn't want to see beautiful ladies in their eye-catching gowns, diamonds on their finger, sparkles on their neck - they set the trend on the red carpet.
Mr Clooney ladies love it, so do not rob them of the opportunity to dress their best.
Actress Julianne Moore attends the 21st Annual Screen Actors Guild Awards at The Shrine Auditorium on January 25, 2015 in Los Angeles, California. (AFP)
From red to gold and emerald green, all shades were splashed this year at the Screen Actors Guild Awards night.
Julianne Moore was gorgeous in green, while Keira Knightley, Sofia Vergara and Camila Alves all wowed in their vibrant colourful gowns for the awards show in Los Angeles on Sunday.
(AFP)
Keira Knightley maybe pregnant but she is not letting her flab be the 'bump' to make a statement on the red carpet.
The actress looked lovely as she arrived in a flowing purple lace Erdem gown.
(AFP)
But the Brit beauty is aware of her expanding waistline as she explained to reporters: 'People do wear tight things when they're pregnant. I don't really go for that.'
"The waist has disappeared, so I can't do that (tight fitted clothes)."
The 29-year-old star, who is expecting her first child with musician husband James Righton, looked radiant in the sleeveless tiered frock which featured an empire waistline and sheer panel on the chest.
Actress Keira Knightley attends the 21st Annual Screen Actors Guild Awards at The Shrine Auditorium on January 25, 2015 in Los Angeles, California. (AFP)
Keira wore an understated make-up palette with dusky brown eye-shadow and a touch of nude lipstick.
Her coppery brown tresses were worn loose in casual waves with portions pinned back and she accessorised with a glittering ear cuff.
AFP
Meanwhile, Jennifer Aniston wins the 'Cake' for most extreme cleavage although she loses out in best actress category to Julianne Moore.
Jenny's plunging glory is a deja vu of her red pantsuit during the Critics' Choice Movie Awards in LA on January 15.
AFP
At the SAG the 'Cake' actress wore a full-length gown made of a shimmery gold material that ended in a black border around her feet and featured a daringly deep-cut neckline.
An elegant body chain was all that she needed to dress up that décolletage - she was also wearing a body chain at the Critics Choice Awards.
Actors Justin Theroux and Jennifer Aniston attend the 21st Annual Screen Actors Guild Awards at The Shrine Auditorium on January 25, 2015 in Los Angeles, California. AFP
Her famous gold-streaked tresses were styled straight with the slightest hint of undercurl to frame her face.
Dangling earrings peeked from her locks, while her complexion glowed with a golden tint.
Jennifer's exquisite gown was vintage Galliano, a design she fell in love with at first sight.
Julianne Moore. (AFP)
Julianne Moore wore an embellished custom Givenchy gown with Chopard jewels which perfectly complimented her red hair.
Modern Family's Sofia Vergara looked fabulous in a red Donna Karan Atelier gown that showed her voluptuous figure off.
Sofia Vergara. AFP
The 42-year-old arrived on the arm of her new fiancé Joe Manganiello, and happily showed off her whopping engagement ring.
Reese Witherspoon. AFP
Reese Witherspoon wowed in a asymmetrical Giorgio Armani gown with crystal embellishment on the neckline; she teamed the dress with a selection of Harry Winston jewels.
Lupita Nyong'o. AFP
Lupita Nyong'o looked regal in her psychedelic Elie Saab gown with Fred Leighton jewelry.
Actress Emma Stone. AFP
Pushing the envelope Emma Stone certainly cut a cool figure during Sunday's Screen Actors Guild Awards.
The 26-year-old looked absolutely striking in a dramatic black gown that featured a long sheer black train that highlighted her lean legs.
The actress kept her neckline free from jewelry but did add some earrings in the shape of diamond florets.
Follow Emirates 24|7 on Google News.