Pregnant Kim Kardashian to name her kid after her favourite nightspot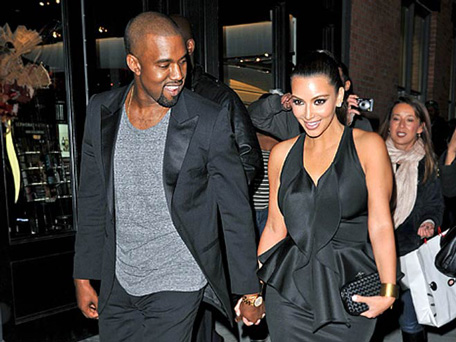 Reality TV star Kim Kardashian is convinced she is expecting a baby girl and wants to name her Liv.
The 32-year-old Keeping Up with the Kardashians star is expecting her first child with boyfriend Kanye West and friends say she has loved the moniker since she was a teenage admirer of actress Liv Tyler, plus one of her favourite Miami nightspots also has the name, reported Daily Star online.
"Kim has liked Liv since she was a teenager, as she was a big fan of Liv Tyler. She fell in love with it all over again when she started hanging out at the club on her visits to South Beach," a source said.
The beauty, who is believed to be around three months pregnant, is said to be convinced she is expecting a baby girl.
"Kim's instincts tell her she is going to have a daughter," the source added.

Kim Kardashian may quit TV
Kanye West isn't sure whether he wants Kim Kardashian to document her pregnancy on reality TV and may force her to pull the plug
The 'Clique' singer - who recently announced his girlfriend of nine months is expecting their first child in June - is said to be uncomfortable about the idea of her documenting her pregnancy on her family's series 'Keeping Up With The Kardashians' but is willing to go along with it for now.
A source close to the 35-year-old rapper told HollywoodLife.com: "You know Kanye is just rolling with the punches right now with everything. He not tripping - YET! All this TV is new to him and Kim is explaining to him that everything is going to be OK and she's encouraging him to just go with the fact that the pregnancy -- or at least part of it -- will be filmed.
"I know deep down, [Kanye] isn't trying to pimp out his baby like that. He and Kim got way more than enough money to take care of 100 kids if they want to have that many. But he know that when it comes to Kim and her family, especially that mother of hers, it's all business and that show is how they make their money. So he juggling all this [stuff] in his head right now, but he ain't all hyped about it yet because it hasn't gone down yet - the filming that is."
But the source said that Kanye will pull the plug on filming if necessary and doesn't care what Kim's mother Kris Jenner thinks.
The insider claimed: "Kanye is a man who acts on his own! People need to remember that. He doesn't let nobody control what he does and when he told the world Kim was pregnant, he did it on his own accord. That's his baby -- Kris [Jenner] didn't get Kim pregnant. He did, so he will do what he wants to and when he wants to. There isn't any beef, though, between Kanye and Kris. They're cool as hell. Fact is, though, Kanye and Kim are calling all the shots with their baby. Nobody else!"
It was recently revealed that Kim plans to keep her baby hidden for six months and has already decided the tot will never appear on reality TV to protect his or her privacy.
A source close to the 32-year-old star, who is 14-weeks pregnant, previously said: "She doesn't even want the baby to be seen for the first six months."
The insider said she and Kanye "have decided as a family that their baby is not going to be on the shows," and she is also "ready to dial back from being so public" herself.
Follow Emirates 24|7 on Google News.