President Obama cuddles Michelle, hits back at marriage rumours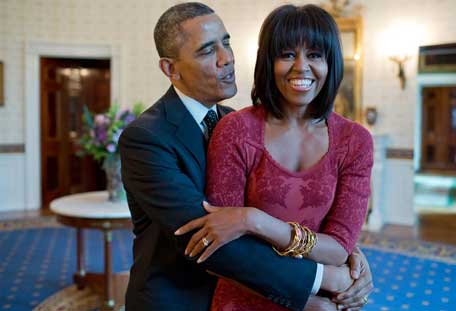 After "Obama marriage heading for the rocks" hit the news stand Beyonce and Stevie Wonder rocked the White House at a star-studded, late-night dance party celebrating first lady Michelle Obama's 50th birthday.
The US President wished his wife on Twitter and shows his gratitude in a cozy picture.
President Barack Obama and daughters Malia and Sasha joined family friends, elected officials, entertainers, athletes, business executives and big donors at the gala, which kicked off Saturday and lasted until the wee hours Sunday morning, the sources said.
The marriage looks far from over!
Beyoncé was among the performers at Michelle Obama's 50th birthday bash.
The 'XO' hitmaker, who is a good friend of the US first lady and performed at two presidential events in the past, jetted to Washington D.C. to sing a few of her biggest hits at the White House on Saturday night (18.01.14).
(Beyonce.com)
The 32-year-old star posted a series of pictures from the party on her Tumblr blog on Sunday (19.01.14), which showed her posing in a gold mini-dress and nude heels while petting one of Michelle's dogs.
John Legend also performed at the event, according to EOnline.com.
Other VIP guests included model Chrissy Teigen, R&B star Mary J. Blige, fashion designer Michael Kors, celebrity chef Rachael Ray, singer Gladys Knight, entrepreneur Sheryl Sandberg and Oprah Winfrey's best pal Gayle King.
'The Avengers' star Samuel L. Jackson told reporters on his way into the party: "I am looking forward to saying happy birthday to her, being able to celebrate this great milestone in her life."
'I Can't Describe' hitmaker Jennifer previously revealed she didn't get Michelle a birthday present.
Asked how easy it was to pick out something special for Michelle, the 32-year-old star said: "You don't. You just go and be there and show your support, that's all you can do."
Follow Emirates 24|7 on Google News.