Prince Harry and Meghan Markle spent Valentine's at Kensington Palace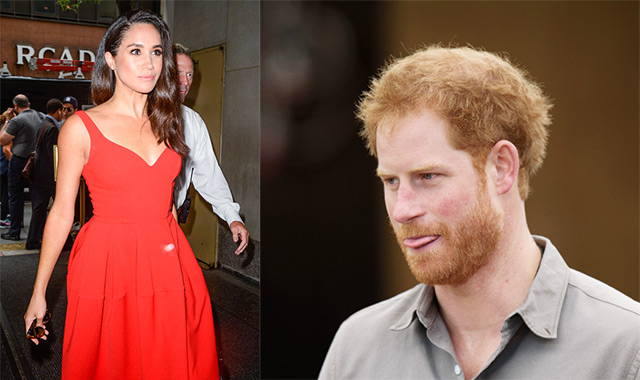 British royal Prince Harry and 'Suits' actress Meghan Markle spent Valentine's Day at home.
The 32-year-old royal and the 'Suits' actress - who have been dating since mid-2016 - spent the romantic holiday together in the most low-key way possible at Kensington Palace.
A source told Us Weekly: "It's become Meghan's home away from home. All the security know her, she slips in and out whenever she likes."
On her lifestyle blog in 2015, Meghan revealed her ideal Valentine's Day scenario.
The brunette beauty wrote: "I think you need to be your own Valentine.
"I think you need to cook that beautiful dinner even when it's just you, wear your favorite outfit, buy yourself some flowers and celebrate the self love that often gets muddled when we focus on what we don't have. (sic)"
Harry and Meghan's relationship appears to have intensified over recent weeks, after the actress was introduced to Harry's sister-in-law, Duchess Kate, and her daughter, Princess Charlotte, in January.
What's more, the couple also enjoyed a romantic getaway in Norway around the turn of the year.
Meanwhile, Meghan's 'Suits' co-star Patrick J. Adams recently gave their burgeoning romance his seal of approval.
He said: "I'm super excited for her. As you can imagine, it is a massive deal, obviously, if you hadn't noticed. I didn't wanna get involved. I just wanted to say, 'I love you, I support you, I hope you're happy. You seem really happy'. And if she ever needed anybody to talk to in the madness - because it is madness, it's madness what the world puts somebody through when they're going through this process.
"But if there's anyone in the world who is designed to be able to deal with it and deal with it professionally, it's Meghan Markle. I'm just super excited for her and I hope that all of the whatever, whatever, I don't even know what it is, but all of the madness passes at some point and they can just get down to the business of enjoying each other's company and hopefully not have to worry about this. But I guess being in this situation, it probably goes on forever."
Follow Emirates 24|7 on Google News.